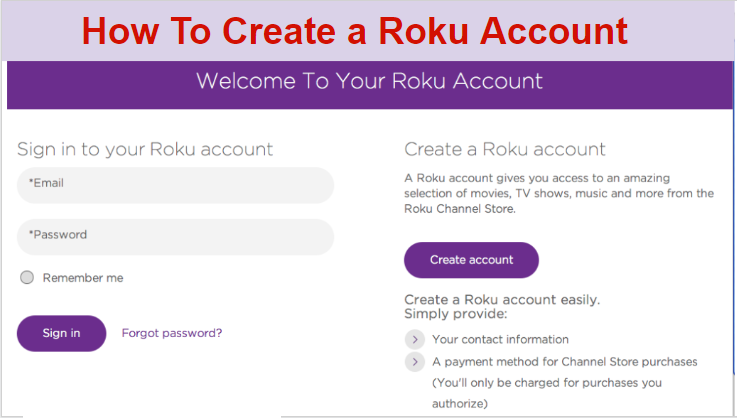 Without the Roku account, you can not do anything with Roku, so you must first create a Roku Account and after that add channels and start streaming media content on your streaming player. You should always activate and set up roku account on a Roku device with a valid account.
This gives you access to the selection of your favorite movies, TV shows, latest music and more from the Roku Channel Store.
Read More :- Know How DirecTV Now Works
Things Keep In Mind Before Set Up Roku Account
Use a valid email address when you think to create a Roku account. On this email address, you will receive the verification link, account-related notifications. When you choose a password, ensure that it is strong and secure.
Here we have some of the ways which will help you choose a secure password for your account. It is highly important as it helps to protect your personal information.
Read More :- Know About DirecTV Now Selected Packages
Use at least 8 characters: Keep your account password at least 8 characters. It is neither too long and nor too short so that you can easily memorize it. In this way, you will not have to save it elsewhere in a written format hence making it more secure.
Include numbers, symbols, lowercase, and uppercase letters: If your password is difficult to guess, its good for you, nobody can steal this. Use numbers, symbols, and both lowercase and uppercase letters, especially where not expected in your password.
Use a unique password: Use a different password for your Roku account that you use for other services. If one password is exposed to all other accounts, it also gets affected by other accounts. All accounts sharing the same password are more vulnerable.
Easy to remember, but difficult to guess Password: You can choose a password which you will easily remember such as date of birth, office joining date, Kid name, and your nickname. For example, you can use initial letters from each word your daughter Mia William born on 03 October 1999 the password becomes ydMWba0O1. It looks like a strong password and that is easier to remember but difficult for an attacker to guess.
Don't Use following things when you choose a password;
Avoid common phrases
Never share your password to anyone,
Don't use a keyboard pattern.
Avoid common letter substitutions.
Never use your login or username.
Do not use dictionary words,
Do not use the old password,
Avoid writing down your password.
Note: There is no charge to create a Roku account. You can create a Roku account free.
Read More :- Fix DirecTV Now Issues in Login
How To Create A Roku Account?
Follow the steps and create a Roku account :
You need to fill all the details such as user first name, last name, email address and password and click on terms and conditions and confirm you're human then move on to the next page.
You need to mention you are 18 years or older.
Click on the Continue button.
Read More :- How to Connect DirecTV Now Customer Service
Generate a unique pin number (your pin security for your account so try to choose a strong one)
Pin number must be 4 digit pin number (0000-9999)
You need to fill payment information on the next page.
After that provide payment information you skip this if you want to add information later.
Now your account is activated and you link your device with your Roku account.
Read More :- Ways to Fix DirecTV Now Error 721
If you have any problem you can take help from Roku com support.
Roku Account Without Credit Card
If you activate Roku without an account and register a Roku Device without a Credit Card or Paypal follow the instruction below;
Enter the security pin and click the submit button, the next page will show billing info.
You can select PayPal. Enter your PayPal email or make one up. Enter an address and phone, etc., then submit.
Read More :- Know How to Return DirecTV Equipment
After submitting the details Roku re-directs you to the PayPal homepage to log in and confirm you are linking Roku to PayPal.
Here you do one thing, as the PayPal page loads, simply CLOSE the page. Do NOT login to PayPal, do NOT confirm anything, just CLOSE it.
Open a new tab and go back to www.roku.com, click on My Account again,
Here you can see that under the Payment Method comment it states to "Add a payment method to make purchases." You have, in effect, now bypassed having to do that.
Go down and click "Link a Device."
By this process now you can freely use Roku without them having any of your credit card, debit card, PayPal, banking or other info on file.
If you forgot your Roku account email address and password, you can get easily the following steps, which are described in the next phase.
To change your Roku account email address or password follow the instructions below.
Read More :- Spectrum TV Vs DirecTV Which is Cheaper
Forgot Roku Email Address
Double-check the email address linked to your Roku device.
Use your Roku remote and Press the Home button on your Roku remote.
Select a setting and Scroll up or down.
Select System
Chose About to view the email address
If you have a problem related to an email account, please contact our Customer Support.
Forgot Roku Account Password
If you want to reset your password and you have an email address for your Roku account, take the following steps;
Open roku.com/password/reset on your computer or smartphone.
Read More :- Ways to Connect DirecTV DVR to Internet
If My Account page opens instead of the Forgot password page you are signed in to your Roku account. First, go to the "Welcome" menu from the top of the page and select Sign out and reset the password.
Click on Forgot password page, type the email address of your Roku account.
After entering the email address click the Submit button. You will receive a password recovery email on your email address.
If you do not receive an email wait or check your spam folder.
After getting an email, open the email and select the link in the email, this link will be valid for 1 hour. Open it in a new browser if it does not open directly after a click on it.
The link directly opens the Create password page, enter the new password you would like to use in both password fields and submit.
Using your new password you may now sign in.
Read More :- DirecTV Now Vs Sling TV Which is Best
To know more about creating a Roku account and how to create a Roku account without a credit card, call us on our toll-free Roku support number.