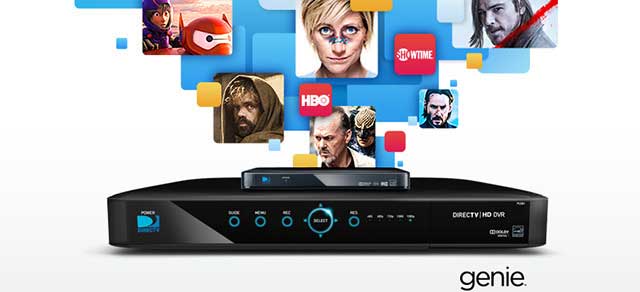 Overview of DirecTV DVR
There are many new services introduced by DirecTV one of the latest features is DirecTV DVR connecting your Genie to high-speed internet. It is the best way to expand your entertainment with 7000 on-demand content without any charges. You will connect to youtube on TV, live tv on I-pad and much more fun.
Steps of Connecting to HD DVR Automatically :
Switch on your Genie which is connected to the TV
Search the menu button your remote
Then go to the settings options
Click on the Network setup shown at your screen
Choose the connect now option
After your TV screen prompts the connection with genie DVR
Click the continue option
Select the manual set up
Click on the continue again
Enter the password of home internet wireless using your remote keypad
Click on the continue option at one final time
*For home internet service you are required to connect with a wireless router to enjoy the latest pandora music, evergreen movies, and awesome shows, DirecTV app, etc.
Wireless Internet With DVR – Great Features
Connecting with Genie HD DVR you will be able to access free features. There are 30 thousand plus movies, shows, and on-demand titles that are already included in your package. The content you want will depend upon your latest subscription.
For the best entertainment, you can record 5 shows simultaneously. With the help of genie HD, you will be able to watch all your missed shows and movies. One of the best ways is to watch 72 hours aired programs, reopen the ones which are already in progress.
Read more : Watch Directv on PC
There are many ways to stream entertainment for free such as – Pandora movies, NFL, The weather channel, I-Radio. For watching your favorite shows and movies you do not need any particular time. Genie DVR automatically saves 200 hours recording in its backup.
It wirelessly can connect up to 8 TVs at your home. If you are staying outside then also you can access HD quality content only with the help of Genie HD DVR.
Steps of connecting Genie HD DVR online:
It gives access to on-demand content and other best features. Scroll the steps to and the ways –
For home internet, it needs a wireless router or gateway connection for home internet
At least you should have 750 kbps to 2mbps for faster connection. If you want to know your internet speed check the AT&T Speed test.
Hd DVR Genie HR44, HR54 or Genie model 2. If you want to check your model of genie press and hold the info button on your remote until the info or test appears on your TV.
Things That Genie HD DVR Gifted To Its Users
Start your movie in 1 room and see the ending on next room
You can pause your live video, rewind, forward or delete instantly
Watch 4 different shows at the same time. It allows everyone to pick their favorite shows or movies and watch where they want.
There is no worry if you miss any scenes of the show you can start from the beginning and before the show ends your recording will be saved in genie HD DVR.
Schedule your recording 2 weeks in advance
You get all the best features such as watch 2 channels with the picture in picture, sports feature, season record, and genie recommends
Watch the blockbuster Hollywood hit movies on DirecTV DVR cinema which is available closely a month before Netflix
See all the best series from Showtime, HBO, Encore, etc.
Watch all the best selection of shows before the regular TVbroadcast (30 days)
Basic Requirements To Consider
Here you can see the list of things you need to consider for the Genie HD DVR connection –
Internet connection – Internet service provider is easily available in any location where you live. With a faster internet connection, you will be able to access the content without any brake. DSL server gives an option that you can view the system remotely even at the slower connection. If you have your own setup available then it's good otherwise, you will need to rent a modem from the internet service provider.
Monitor – At the early stage for viewing all your DVR settings and composting you required a monitor. If you only want to view the system remotely then the monitor is no longer required after checking the settings status. Using any one of these compatible devices such as HDMI, BNC, VGA, and RCA you can experience TV as a monitor.
Ethernet cable – they are come up with category 5 which is used to connect to the internet. There are many DVR which comes as remotely viewed category and port where you can connect with the category 5. Most of the times manufacturers provide free wires with the system. But if you want to connect the DVR with the router wire get even shorter than we expect. Before purchasing the system always be sure about wire measuring. For connecting modem and router you need an ethernet cable. Router Ethernet cables are usually shorter.
DVR (remotely viewed) – You cannot access remotely viewed DVR with every system. There are many DVR which not have the internet connection feature they are only designed for recordings. Your DVR should have the facility of reaching the manufacturer or manual checking facility.
Router – Router's work is to pass on the data between the connections. You can connect different devices with a single internet. At present, there are many homes and offices that offer wifi facility to connect your device to the internet. You do not need any wireless router to connect to the DVR remotely. Here are some larger router brand such as-
Apple
D-link Netgear Linksys
Belkin and many more.
Method of Connecting Wifi To Genie HD DVR -Model HR44
By following these simple steps you will be able to connect your Genie HD DVR manually: Before moving forward Know your model number by pressing the info button. You will get all the details on your TV screen. If you have an HR44 model number then it will be shown in the receiver line.
If you already have a set up then look for your password and name. Some users have an SSID password on the top of the modem, quickly call the internet server to fix your problem or you can proceed if you get the information.
On your remote press menu button
Go to the settings option and tap select
Select the network setting and then choose to connect now
(if you are not connected then restore defaults allows to do so)
Click continue
Choose manual setup
Then press continue again
Enter the password and SSID for wifi connection then click continue
Finally, you will get verified
*If you have a different model then call the server for better assistance
Frequently asked questions
What are the exact dimensions of Genie HD DVR?
Here you will get all the dimensions and other specifications –
Video output – 1 composite (RCA), 1 component (YPbPr)
Dimensions – height (1.97), width (13.11), depth (9.69)
Audio outputs – 1 digital (optical), 1 digital (coaxial), 1 stereo (RCA, L/R)
Other specifications – 1 satellite In, 1 back USB port, 1 Ethernet Port, 1 front USB port, 1 eSATA port, 1 internal RF antenna, 1 AC power Inlet connector, 1 Front USB port
Connecting internet to other devices
It will depend upon which model you are using because the connecting process is different from another. For more information either go to the website of DirecTV DVR or call the help center. There is every step information as well as videos.
How to fix Genie HD DVR problems?
On your DirecTV DVR remote tap the dash button
If the internet is not detected then you are in the right direction
Check your model
And hold and press the info till the info and test appear