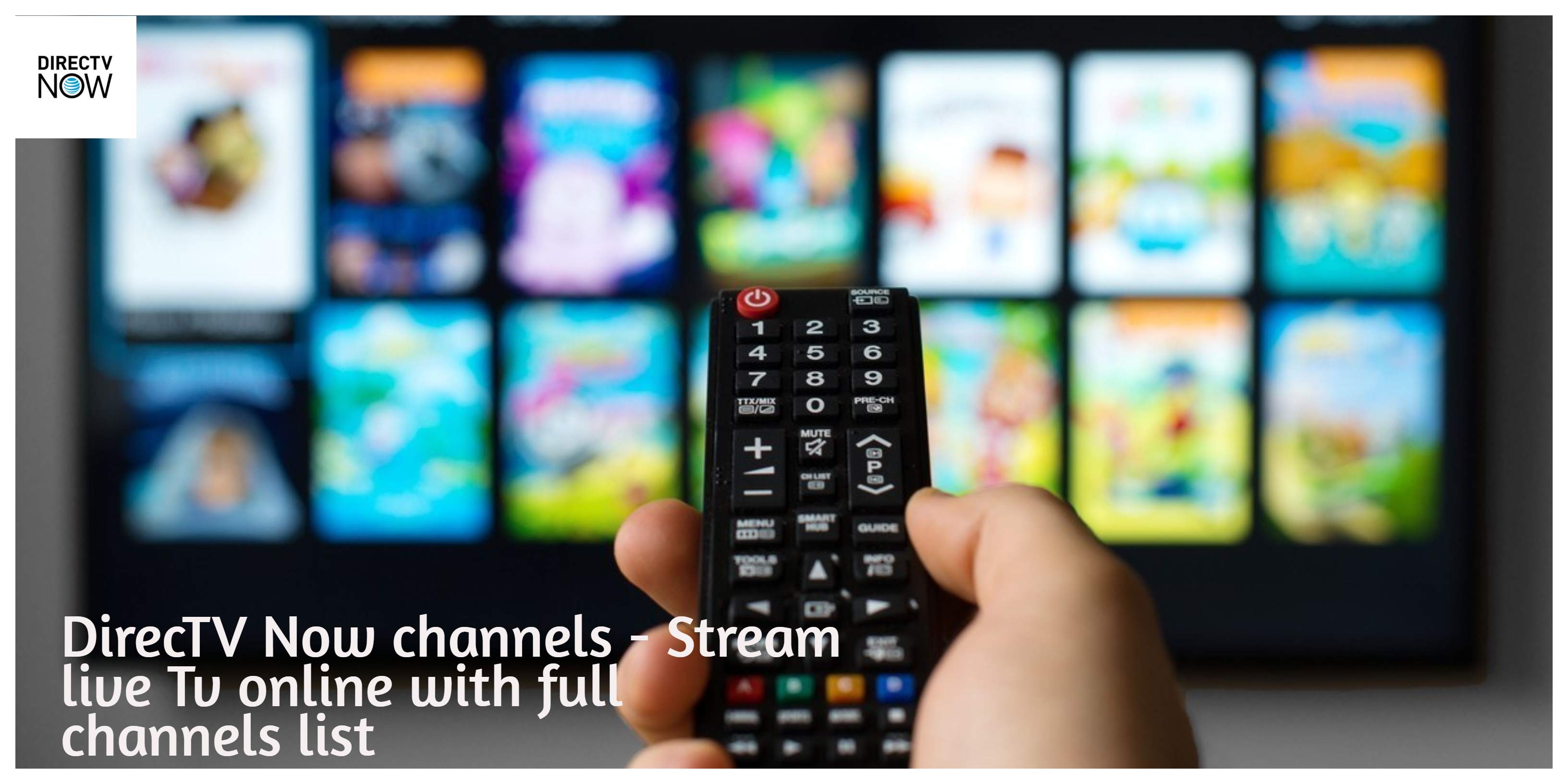 In older days cable tv was the king of television service as it was the only way of DirecTV stream live Tv. Now in 2020 cord-cutting is becoming more famous. There are many companies which are serving online streaming services without cable subscription the best eg is Directv Now.
Read More :- Know about DirecTV issues in Login
Directv now works through live streaming service that offers and DVR and other features. It allows subscribers to watch their favorite shows using compatible devices such as Apple TV, Amazon Fire TV, Google Chromecast, or Roku. They are only subscribed to their monthly plan without any equipment or installation service.
You can enjoy many services with Directv now such as live tv streaming, record tv in 2 devices with 20 hours facility, cancel your subscription anytime, add premium or international channel.
Read More :- How to Connect DirecTV Now Customer Service
Directv Now Channels – Basic Packages
Directv promotes plan and max packages more you can see the website or home page. The new subscribers can only opt for these two packages which are starting from $50 and goes up to $75.
HBO channels are included in both the packs but after paying $14.99 per month. There are a lot of channels unavailable in services such as MTV, comedy central, AMC, BBC America, A+E networks – History, lifetime, and other channels.
40+ Plus channels – $50 per month:
Universal Kids, Universo, USA Network, VME, ESPN, ESPN2, FOX, FOX Business Network, FOX News Channel, ABC, Accu weather, Audience, Boomerang, Bravo, Cartoon Network, CBS, CNBC, CNBC World, CNN, CW, Disney Channel, Disney Junior,
Read More :- Know DirecTV Now Best Streaming Channels
Disney XD, E!, FS1, Freeform, FX, FX Movie Channel, FXX, MSNBC, My Network TV, Nat Geo World, National Geographic Channel, NBC, NBCSN, Ovation, Oxygen, Pop, Revolt, SYFY, TBS, TCM, Telemundo, TNT, TruTV, Hallmark Channel, HBO, HBO Family, HBO Latino, and HLN
50+ Max channels – $75 per month:
Max package also offers the same number of channels as the previous one. But if you are paying extra so there are some extra channels included such as ESPNews, ESPNU, FS2, Golf Channel, Longhorn network, MSG, MSG+, Olympic Channel, SEC Network, SYFY, Yes network, Cinemax, BTN, CBS sports network, and all the other channels are same.
Note – These two plans have a free 7-day trial facility.
Rad More :- How to Fix DirecTV Error 721
Directv Now – Important Packages
There are 4 more packages in Directv Now such as live a little, Just Right, Go Big and Gotta have it. Lets briefly see these plans which plan have more channels and what is the cost?
live a little – This is the base plan which includes all 65+ channels in $40 per month.
Channels – A&E Network, ABC, Accu Weather, AMC, Animal Planet, Audience, AXS TV, Baby First, BBC America, BET, Bloomberg TV, Bravo, C-SPAN, C-SPAN2, Cartoon Network, CBS, CMT, CNBC, CNN, Comedy Central, Disney XD, E! Fox Business Network, Fox News Channel, FOX Sports 1, Freeform, FX, FXX, Galavision, Hallmark Channel, Hallmark Movies & Mysteries,
HGTV, HISTORY, HLN, MTV, MTV2, National Geographic Channel, CW, Discovery, Disney Channel, Disney Junior,  NBC, NBCSN, Nick Jr, Nickelodeon/Nick at Nite, One American News, Paramount Network, REELZ, RFD-TV, SYFY, Investigation Discovery,
Read More :- Know How to Return DirecTV Equipment
Lifetime TV Shows & Movies, MSNBC, TBS, TCM, TeenNick, Now, ESPN, ESPN2, Food Network, Fox, Telemundo, TLC, TNT, TruTV, TV Land, Univision, USA Network, Velocity, VH1, Viceland, and WE tv.
Best for – Local, news, comedy, and entertainment
Just right – The price of the plan is $65 which is slightly costly than live a little package that offers 85+ channels.
Channels – All the channels are the same as live a little package except – A wealth of entertainment, comedy tv, the weather channel, tennis channel, Unimas, Sundance tv and other additional sports channels like – MLB, IFC and more.
Best for – sports and lifestyle channels
Go Big – The package includes105+ channels in $65 per month.
Read More :- Spectrum Cable TV Vs DirecTV Comparision
Channels – It gives all the same channels as the other two packages offer. You will also not only get extra sports channels such as – CBS sports network, Fox Sports 2 but also movies, family entertainment and kids channels
like –  FX movie channel, Fyi, IFC, logo, Olympic channel, Universo, Univision, Tv one, Nick at nite, NFL Network, NHL Network, FM, Golf channel, etc.
Best for – specialty channels and sports channels like regional and live.
Gotta Have it – This is the biggest plan and unbeatable plan of Directv Now channels which give access to 125+ channels in $80 per month.
Channels – Combine pack of all the previous plans including all the Staz and other new channels such as – Starz Encore Blck, Starz Encore East, Starz Encore family, Starz Encore classic, Starz Encore suspense, Starz Encore West, Starz Encore Westerns,
Universal kids, Univision Deports Networks, USA Network, Golf Channel, History, HGTV, E Noe, E Ray, Cooking Channel, Destination America, Discovery, Discovery family channel, Discovery life, Own, LMN, Oxygen, Travel channel.
Read More :- How to Connect DirecTV DVR to Internet
Best for – Movies, Sports and all the other entertainment
Todo y Mas – if you choose this Directv Now channel package you will get an international plan of 90+ channels in $45 per month which is very affordable. It also focuses more on sports such as Fubo tv.
Channels – A&E, ABC, AccuWeather, AMC, Animal Planet, Audience, AXS TV, BabyFirst TVTM, Boomerang, Bravo, Cartoon Network East, CBS, CNN, C-SPAN, C-SPAN2, Discovery, Disney Channel,
Disney XD, E!, Viceland, Antena 3, ATRES SERIES, Azteca, BabyTV, Bandamax, beIN Sports en español, Canal 22 Internacional, CANAL ONCE, Caracol TV, Centroamérica TV, Cine Estelar,
El Rey, Food Network, FOX, Freeform, Fusion, FX, FXX, HISTORY, HLN, Lifetime, MSNBC, FOX Sports 1, Cine Mexicano,  Nick Jr., Nickelodeon/Nick at Nite, Paramount Network, TBS, TNT, USA Network, Velocity, VH1, MTV,
Read More :- How To watch DirecTV on PC or Laptop
National Geographic Channel, NBC, Cine Nostalgia , Cine Sony, Cinelatino, CNN En Español, De Pelicula, De Pelicula Clásico, Discovery En Español, Discovery Familia, Ecuador TV, Ecuavisa Internacional, Enlace, ESPN
Deportes, Estrella TV, FOROtv, FOX Deportes, FOXlife, Galavisión, GolTV, History En Español, HITN TV, Hola TV, IVC Net, MegaTV, Multimedios, Nat Geo Mundo, NTN24, Nuestra Tele, Pasiones, Perú Mágico, SUR Perú,
TeleCentro, Telefe, Telemundo, Tr3s, TV Chile, TVE, TyC Sports, UniMás, UNIVERSO, Univision Deportes Network, Univision tlnovelas, Univision, Venevisión, VideoRola, ViendoMovies, Vme, WAPA América, The Weather Channel, ZooMoo.
Best for – Spanish languages entertainment
There are limited live streaming tv channels such as ABC, CW, NBC, CBS and Fox where you live. If you want to get the availability of major networks then it is based on your billing zip code or physical location to stream.
Read More :- DirecTV Now or Sling TV Compare
Note– if you want more access to live streaming local channels then check up the zip code lookup tool.
Steps To Sign Up Directv Now
Signing up with Directv Now is an easy way. It offers a free 7-day trial facility to the new users where you can ass premium, local, expensive channels, movies and many more without any charges. Directv and Directv Now have different services that require separate accounts.
Go to the website direct now and click on a free trial now
Choose the password and Id to sign up your account
Enter the reCAPTCHA that proves you are now a robot.
Click on the option lets do this
Select the plan you want to watch
Scroll and choose the channels which are included in the pack
If you are satisfied with the plan you choose then continue with the plan
Choose the additional channels or select skip now
There is a great bonus sometimes if you sign up with the service or pre-pay subscription such as Apple Tv, Roku. Select any one channel you like
After selecting your plan click on the credit card and pay pal option and enter the billing details
Go to the review summary below and check which payment is left or due after your Trial period
Carefully read all the terms and conditions and click on the option of terms and conditions
Click submit option and enjoy live streaming
Read More :- DirecTV Now or DirecTV Service which is best
Speed of Internet You Needed To Stream Directv Now Channels
For enjoying the streaming experience without a break then you require an internet connection. It affects both picture and video quality. See the list of speed to stream live content from Directv now.
Mobile – This device needs 150 kbps to 2.5 kbps to access the content
If you are looking for high definition video content then you need 2.5 to 7.5 Mbps.
Watching home with the various streaming network then you require 12 mbps+ internet connection.
Directv Now vs Cable Cutting Cord
Connecting with Directv Now channel you will get great service with many channels than other services. If you are an HBO lover then Directv now is the best choice for you.
Read More :- DirecTV Vs Dish TV which is Best
| | |
| --- | --- |
| Directv Now | Cable Cord |
| It cost $40 per month | Cost – $100 per month |
| Greater flexibility to watch from the phone, computer, tablet. | Less flexibility |
| DVR service is available sometimes | Sometimes |
| To watch Broadcasting tv or sports, there will be charges | Fees for watching sports or broadcast tv |
| Free 7-day trial | No trial |
| No contract or cancellation fees | Yes there is contract or cancellation fees sometimes |
| It is a streaming device and needs an internet connection | It is neither a streaming device nor it requires an internet connection |
| There are no cable box or equipment charges | Cable box and equipment fees |
Frequently Asked Questions of DirecTV Stream Live TV
Q: How to watch DirecTV now Live television?
You can watch Directv Now service with supportive devices such as mobile, tablets, computers, etc. when you will go to the Directv now website it automatically turns up showing the live streaming content. See the easy steps to watch the live content.
Go to the Directv now website
Click on the guide option
Go through the guide and choose your program that you want to watch
Select the name of the program you want to watch.
Move the mouse to the extreme right corner to view in full screen.
Read More :- Know About DirecTV Reviews
Q: Does AT&T have video streaming apps?
Yes, there are –
Directv now – this is a subscription service and unrelated to satellite tv
HBO Now
Watch Tv – free unlimited data for AT&T mobile users.
Warner media will be released
Q: Is DirecTV is costly than Sling TV?
Yes, Directv is more costly than sling service but it also offers great content in HD quality as well as more numbers of channels than the sling. If you are upgrading or adding more channels the cost is $40 per month with an extra $5 DVR which costs exactly the same.