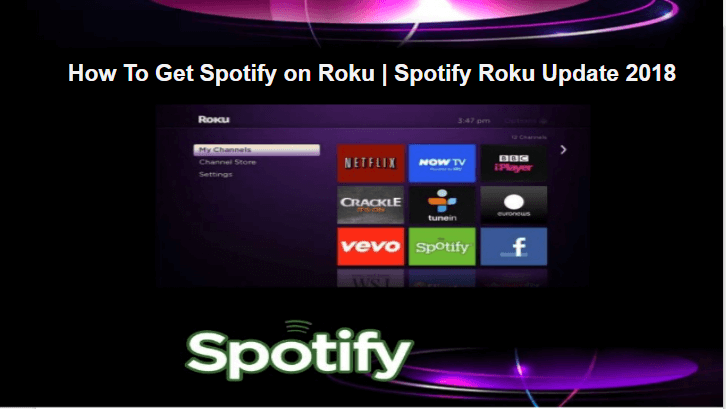 The world's most popular music streaming platform makes its highly anticipated return to Roku player with Spotify Roku update 2020. You can directly search for albums and playlists to listen to or browse music recommendations on your Roku device from Spotify.
Read More :- How to Fix Roku Overheating Problem
Spotify can support Roku TVs version 8.2 and later versions. Spotify Roku update 2020 comes back after many months of absence. Once you get Spotify on Roku you have to access browse your favorite songs very easily.
Roku Spotify lets you find and manage over 40 M songs absolutely free which is best for you. With Spotify Premium get access to exclusive features of the app, where you can listen to your favorite music without any interruption. You can control the app on the player via either Spotify Connect Roku or the Roku Remote.
Read More :- Ways to Fix Roku Infrared Remote Problems
If your system version is older you can update the software to a newer version. For this go to System Update from the SYSTEM menu Roku Spotify update 2020.
How To Log Into Spotify On Roku Account?
If you have a premium account you can enjoy the latest hit albums at the streaming quality. If you think about why we choose the premium account of Spotify? You have to check the following reasons:
Listen to music without ads.
You can download music and listen anywhere
Play any song on your mobile.
You can easily skip the song.
Read More :- How to fix No Sound in Video Problem on Roku
Listen to music (shuffle play)free for 1 month
Read More :- How to Cast YouTube or Netflix on Roku
Sign up with your Facebook Account:
If you used Facebook to create your Spotify account, please follow these steps to log in to Spotify;
Choose Spotify from the list of music sources.
Click on Login to open the Spotify app web view.
Choose Log in to Spotify.
You see the option 'Login with Facebook' click on it.
After clicking it will be load, you will see 'Log into your Facebook account to connect to
Spotify', now enter your FB email and password, then select 'Log In'.
Now you have a Spotify account.
Read More :- How to search Movies and TV Shows on Roku
Sign up with your email address :
Follow these steps to log in if you created your Spotify account using an email and password, and not Facebook credentials;
Go to Spotify.com/signup.
Go to the Spotify app web view after Select 'Login'.
Choose 'Log In To Spotify' instead of login with Facebook and enter username and password. (See the image on above step)
Use the scroll down button to reach the login button and click on the login button.
Now you have a Spotify account.
Now let us talk about Roku Spotify Update 2020, and his features.
Read More :- How To Enable Closed Caption On Roku
How To Use Spotify Roku Update In 2020?
Every user listens to music and they want with the Roku Spotify app that gives you access to a myriad of podcasts, songs, and videos. Create a Spotify account, manage it and after the sign-in process, you can browse anything as you want. For sign-in requiring a valid email address and their option available of connecting through your Facebook account.
After signing the process you can get free access to the songs while functioning just like any radio station. Once you can get a premium subscription that means you have a full-service to Spotify Roku update 2020.
The features of Spotify on Roku are as follows:
Ireland, the United Kingdom, and the United States Spotify is currently available in these cities.
You can enjoy excellent music quality, which comes to 320 Kbps if you have a premium account.
You can stream music without a break and this is absolutely an ad-free version.
It provides the music catalog for your Roku players.
Read More :- How To Stream My Content on Roku Device
Spotify offers you, add the Roku Spotify private channel. And we provide the following steps to how to Add the Spotify Roku private channel? 
How To Add The Roku Spotify Private Channel
These steps help you to add the private channels on Roku Device;
Visit Rokucom/link sign-in page
Sign in to your Roku account from a computer or a mobile device
Get the Roku com link activation code and enter the code for the channel
Click on the ADD A CHANNEL option.
Type the channel code and choose the ADD CHANNEL button
See the channel is available on your Roku com link account
If not refresh your device, go to the:
SETTINGS menu -> select the SYSTEM option -> followed by SYSTEM UPDATE -> finally, the CHECK NOW option
Enter all the payment-related information.
If you still find any issues with the Roku activation code, visit the Roku com link site.
Read More :- Increase Storage Space With MicroSD on Roku
How Does Roku Spotify Family Work?
In this pack, you will enjoy with your family instead of alone (at the same address) and you enjoy with invite others;
You can get unlimited high-quality streaming access to over millions of songs
Play music offline.
No any type of ad interruptions
You can travel abroad with your music
Additional features are available on the Spotify Premium account and it has several benefits.
Owning a premium account comes with several benefits. Your 5 family members can enjoy music on the Spotify app at highly discounted rates.
The family plan will be paid monthly.
The plan000000 owner has the privilege of adding or removing members from the FAMILY plan.
All the family members will get their own personal premium account.
You can also invite other people to accept your plan if you are an owner.
Read More :- Know How to Turn off Roku Device
Joining and Sharing the Family Account
The administrator of the plan is an only member able to invite a member
You can join and share your account, for this send the invitation link to others.
To follow the steps to invite someone to join one of the allotted subaccounts in your plan:
First, you have to go to your account page.
Click on Manage.
When you see an available Empty Slot click on it
After that click INVITE MEMBER BY LINK or enter the e-mail of the person you want to invite.
click send INVITE.
You get an invitation to join the plan with a link.
For acceptance, the invitation clicks on the link and then select ACCEPT INVITATION.
You will see the confirmation screen which is also the account page.
Click the SUBMIT after you have entered the relevant details.
Read More :- Know How To Cancel Roku Subscription
Spotify On Roku Without Premium is good news for Spotify and Roku Device users. In the world, most of the users are music lover they want to make a playlist according to own preference.
Spotify On Roku Without Premium
There are ways to stream Spotify Roku without a premium for, who are not able to pay this premium amount. Ideally, the channel is free but sometimes you might have to pay a premium to stream it on Roku.
Read More :- Know Everything About Roku YouTube Account
How Can You Use Your Roku Spotify Channel?
You can search for the latest releases and top tracks according to your region.
Via the Spotify use the excellent search bar to browse and play tracks from your playlists
You can bookmark your favorite tracks and add tracks of your choice to your default playlists.
Use the inbox features to access the content sent to you by your friends in your Spotify.
You can get all information related to currently playing track and album.
The Spotify contains a large library content of close to 6 million videos and music play hits.
You can access the Spotify Roku without Premium account own an Android TV;
Play some of the casual game channels which are already on Roku.
If Spotify is supported for your region, you can find Spotify in the Music category of Channel Store.
Add the channel directly by search alternatively.
For streaming in Roku, you might need to open a premium account.
You can use the 30-day trial service of Spotify.
Read More :- Know 15 Ways to Stop Roku Video Buffering
This article covers how to get Spotify on Roku and if you have any problem related to login and join the membership of Roku Spotify update 2020 then you can call us at our toll-free Roku support number.