Roku media player is a brilliant streaming device, and it has over 27 million active user accounts. Some people argue that it is the best streaming device in this world. Here we will tell you How To Turn Off Roku device?
Some Roku media player models come with a remote that features a power button whenever you press the power button all it does is turn your TV on or off. Some older Roku devices have an on/off button, but the newer Roku device has no button to on or off.
The reason is that the device design to remain on and always connected to the internet because Roku installs its updates in a low-power sleep mode while not in use. If you turn off the Roku device and turn it back on, wait for a new update to install and for the service to restart. This could annoy, but not a big problem. also read How to Reset your Roku Streaming Stick or Box
How To Turn Off Roku device?
Roku devices are low-power devices that are made by Roku company to stay powered on and connected to the internet all the time. Roku device never consumes extra internet. It consumes the Internet at the time of streaming only. However, you wish to turn off your device when it is not in use. I will explain the procedure of turning off the Roku device.
Roku streaming device powered through USB
Roku 4
Roku 3 or older
Roku TV
1. Roku streaming device powered through USB
There are three Roku models to which can be powered through USB. The devices are Roku Express, Roku Express+ and Roku streaming sticks and you need power capable USB port on your TV, it means that your Roku device will automatically power off when you turn off your TV. As I discussed above, it will have to boot up every time you turn on the TV.
Some Roku devices are powered via TV's USB port. If you own any of these devices, you need not worry about turning off the device. These devices are powered by your TV's USB port, so it will automatically power off when you will turn off your TV. While using this functionality you will get a great way to save electric energy, it means that your device will reboot every time whenever you turn on or off your TV.
If your TV's USB port doesn't have enough power to keep the device on or your TV doesn't have any USB port. Here, take an additional AC adopter to power your Roku device, which will keep the device on as long as the adopter switch is on. To turn off your Roku device, unplug the AC adapter or switched off the main AC adapter switch.
2. Roku 4
If you are owning Roku 4, then you are in luck. Roku 4 has a new feature that allows you to fully turn off your device with just a few steps.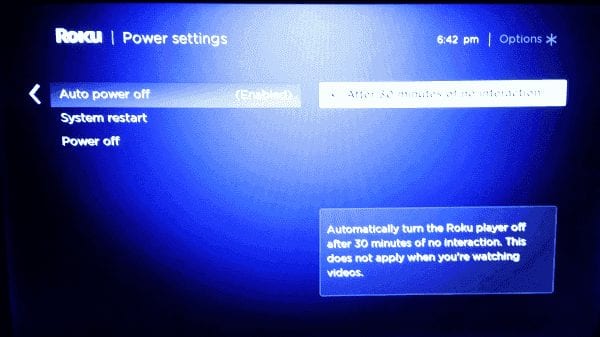 To turn off the device, go to "Setting" then "System" and after that "Power" this will show you many options.
You have a choice to set the device into "Auto power off" mode it will automatically shut down after 30 minutes' inactivity.
And you will get one more option to restart the Roku device by choosing "System Restart"
3. Roku 3 Or Older
If you have a Roku 3 or older device, then you are not in luck because there is not any button to turn on/off. And it has not an easy way to turn off your devices. However, it will go in the "Power Save" mode after 30 minutes of inactivity.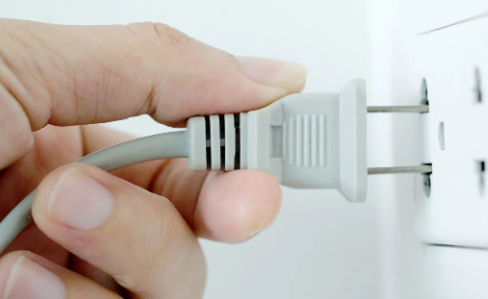 To completely turn off your Roku device, unplug the mains adapter from the wall or turn off the switch of the adopter. When you are not want to use the Roku device.
4. Roku TV
If you own a Roku TV, there is only one way to turn off your TV. There are additional power-saving features, which you can access via "Setting" > "System" > "Power" > "Auto Power Saving." This will provide you with some options.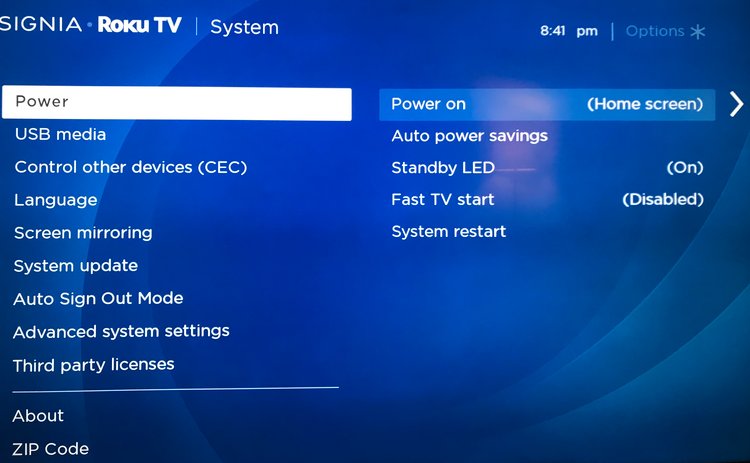 "Reduce power after 15 minutes" by choosing this option, your TV will go automatically to save power mode after 15 minutes spent idle.
"Turn off after 4 hours" by this option your TV will turn off after 4 hours spent idle, choose this option if you are watching a movie or shows
"Standby LED" means that you can turn off the LED on the front of your TV when TV is off.
"Fast TV start" means that if your TV will be in standby mode so it can be started faster and can be woken by remote or Roku mobile applications. If you disable this option, then you can save more energy.
"System Restart" This option will restart your device.
FAQ
How do you turn off Roku when not in use?
There are several methods are explained above for several Roku devices. please read the above article.
Should you unplug your Roku?
Yes, If you want to completely turn off, you can unplug your Roku device.
Is there a sleep timer on Roku?
Yes, there is a sleep timer. There is an option "Auto power off" mode in "Setting" option for more info read above article
Do I need to power off Roku?
No, you need not to power off your Roku device. It is designed to stay powered on and connected to the Internet. It consumes less electric power.
Does Roku turn off automatically?
Yes, Roku turns off automatically after 30 minutes of inactivity.
Does Roku Ultra have a USB port?
Yes, Roku Ultra has a USB port.
Final Word
I hope you have all the answers to your question. Also, read How To Update Software On Roku Streaming Device. If you have still questions or queries feel free to contact our customer service support center, they will definitely solve your queries.