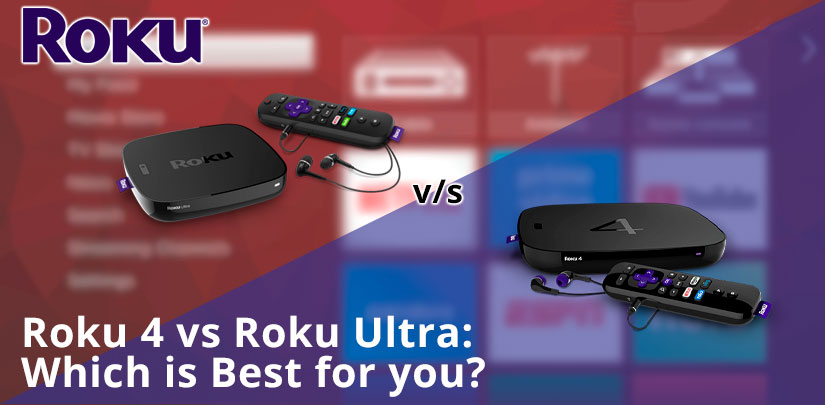 Roku 4 vs Roku Ultra both are popular in Roku ecosystems, and it provides a better search and more customization than any other. The best thing in Roku Ultra can access more TV shows and movies in 4K and HDR than most rival devices. The Roku Ultra has slight differences in hardware and it is a little smaller.
Read More :- Know How to Create Roku Account
Roku 4 vs Roku Ultra both have extremely similar features but some key differences can make or break the upgrade decision for some consumers, and we will discuss below Roku 4 vs Roku Ultra, you have to find which is best and best suited for you.
Roku 4 vs Roku Ultra: Similar Features
The best thing in Roku Ultra is;
Incredible app selection
Improved remote
Easy to watch your own content
Full 4K HDR functionality
Read more :- Know 15 Tips to Stop Video Buffering on Roku
The best features of Roku 4 is;
Remote with voice search capabilities
4K Ultra HD fast streaming
Mobile app to enhance the streaming experience
Private listening with headphones that plug into the remote
Processing power: Roku 4 and Roku ultra both have sport quad-core processors, and processing power is very similar. This is not a noticeable difference between the two and speed and performance point of view both are similar.
Supports 4K and HDR video: We already discussed Roku Ultra supports the TV shows and movies in 4K and HDR and now we see the Roku 4 features, it was the first Roku to sport 4K support. Now, this facility continues in the new version of the top-of-the-line product.
Read More :- Know How to Cancel Roku Subscription
Remote Features: Both have lots of similarities in the remote controls and support agnostic voice search. The remotes also have built-in microphones who is supporting to agnostic voice.
Roku 4 vs Roku Ultra Both devices have a USB port, a micro SD slot, an optical audio jack, and, of course, an HDMI port. These ports are available on the same sides of the devices.
Read More :- Increased Storage Space With MicroSD on Roku
Gaming Button: Roku 4 has the A and B button which is available in remote for gaming app selection. Roku Ultra also followed that pattern and it also has A and B gaming buttons. Both have a headphone jack for private listening.
Roku 4 vs Roku Ultra: Comparison
Both have 4K Ultra HDR video supportive features, which displays can read that information and show an image built from a wider range of color and brightness.
Only the new Roku supports Ultra support HDR video, if your TV does not have it, you should consider the upgrade to the ultra.
We can say that one minor difference in Both them, the Roku Ultra can convert Dolby D+ to the older Dolby D format, which the Roku 4 cannot. This only matters if you're using an older audio receiver. This difference is related to the optical audio input.
Read More :- How to Stream My Content on Roku via USB
The form factor is also differentiating both of them. Roku Ultra has a smaller size than its predecessor, which is a great advantage of this device. It has a large size than Roku ultra.
If you're happy with your Roku 4 current 1080p TV set and media box, so you don't want to upgrade so leave it because the newer device is great, but it isn't cheap. There might be question come in your mind, should you upgrade your Roku? A simple answer is yes.
Read More :- How to Enable Closed Caption on Roku
Conclusion
If you want any information or to know more about Roku 4 vs Roku Ultra, call us on our toll-free Roku support number. We will provide you all the relevant information to all your queries about the Roku device.