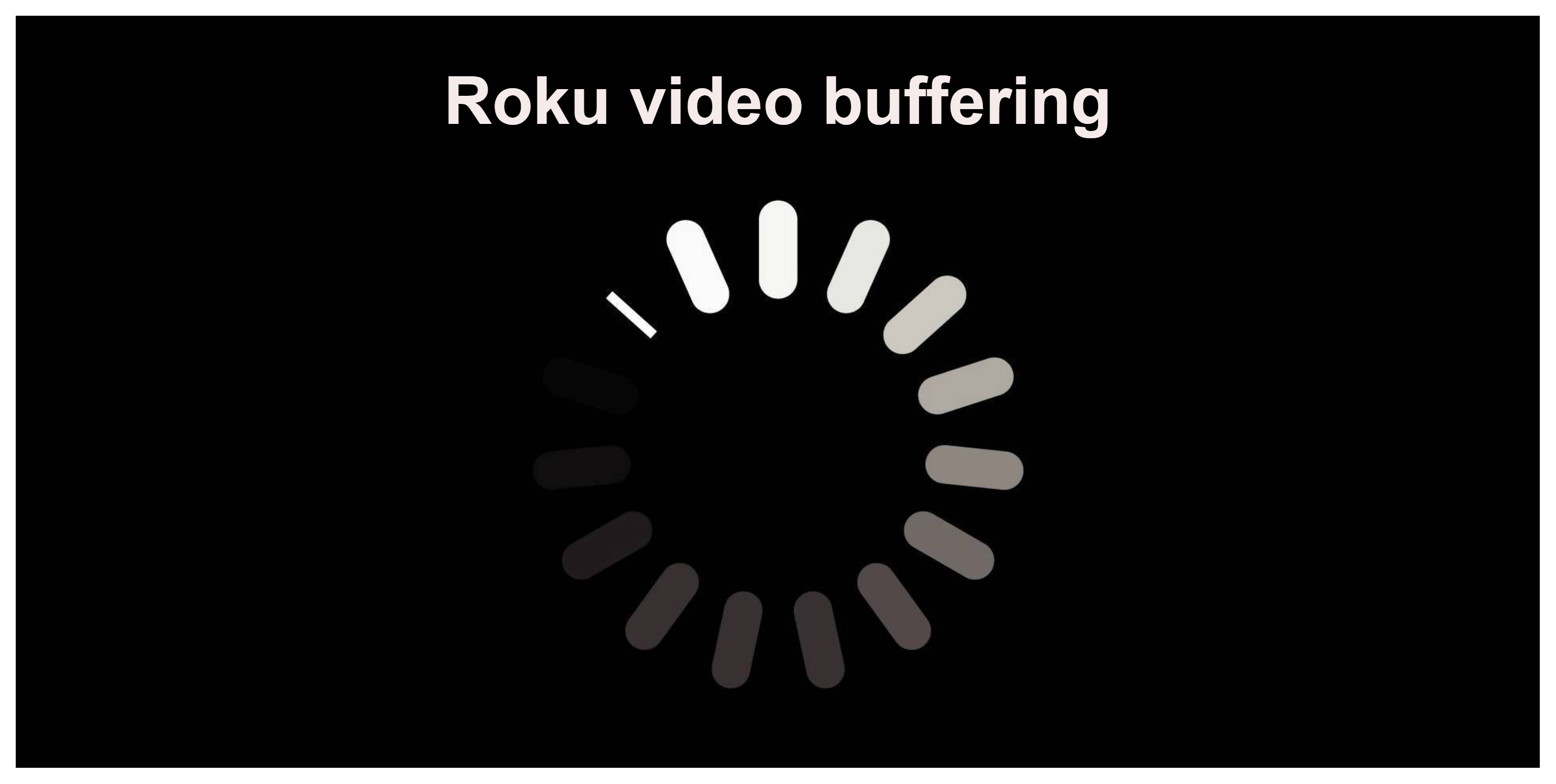 Roku is known as the least problematic devices of all times. But there is no such device which is fool-proof, not as Roku. Problems with video buffering can create a negative impact on live video streaming. If you are also facing buffering all the time while streaming the video then do not worry this article will solve your overcome several problems such as – upgrading router, reducing background process, deleting malware from your system.
What are the causes of buffering?
Video Buffering is a very common issue which happens to everyone and it is happening due to poor home networks but everyone like to blame the service.  
When the connection between the video encoder and the server is broken

The Internet speed is insufficient 

Too much load on the server and heat sometimes leads to a crash. 

The Internet frequency may be insufficient to run completely

–
What are the solutions to stop buffering?
1. Analyze the problem
The very first reason for Roku video buffering is the internet. No matter what you pay to your services this problem is constant. There are times when ISP can have damaged on their lines while running to your home. So always test the speed of your connection and make sure you are getting the correct speed for what you are paying for. The best and easy website for checking out the internet speed is through fast.com.  
Read – check out the article if you are facing other issues of the Roku error codes than buffering.
2. Adaptive bit-rate streaming technique
There are several issues such as system or data where the data might not cross the server properly. It happens in both live streaming and internet case. The adaptive bitrate helps to combat these problems by streaming the video in poor quality rather than disconnecting it completely. Without any interruption, the adaptive bitrate streaming gives continues live streaming and adapts the available frequency rate. 
3. Check the network settings
Always check the privacy and internet settings and ensure they are valid.

Check the network server you use 

It's not possible to use multiple connections simultaneously at the same location as it will prevent to Roku video buffering and streaming issues. 
4. Restart the Roku device
Reset your model device 

Take out all the cables to your device and disconnect it from the network 

Connect it again 
5. Update your router
If your wifi is dropping constantly and still you are facing the issues at one corner of your house. Then immediately replace your router one that has AC standard. It will show you a huge improvement in network connections. Like your phones and tablets breaks down as they become older. If your wifi router is cheap and old it will not support all the devices. Not all, but there are some quality routers which holds more than 10+ devices within the home. The routers which are older and have 100-megabyte upstream connection did not have good CPU support.    
6. Shift to the wired connection
Cable wires using ethernet connection have a great combination that will give you wireless connections. Roku video Buffering problems occur due to local issues, not upstream issues. For running wires powerline is the best substitute that hard to reach the home. Wired connections are more reliable and they do not produce heat inside it as compared to the wireless networks. If you are looking for wired connections than Roku new model will be great also check out the new Roku hack tips for the amazing streaming experience. 
7. Move to 5GHz wireless
If you don't like to switch with the wired connection or if your Roku has not the option. Then 5GHz is the best choice for you as it is less crowded, less interference and great frequency range. For streaming, better quality video 5GHz is the best connections but the only difference is its less crowded band with less interference. Now the older and newer band control which gives 2.4GHz. There are different brands which have 5GHz SSID. 
8. Manage the higher upload speed
Speed upload and video buffering are interconnected to each other. If we compare then uploading speed is more than bitrate. When the uploading speeds go down then streaming is postponed or broken which is known as buffering. Manage the higher upload speed which needs a higher frequency range. There are other factors such as wired encoder which contribute to the upload stream.
9. Rebooting
This method is the easiest and the cheapest which keeps your Roku issues far away. All you have to do is first turn on then off your Roku device. 
10. Avoid heating
Even if you have a fast internet connection after a couple of hours it will automatically start with the Roku buffering and have heating issues. 
11. Do not overload your encoder
Encoding is the only way that connects the camera into the user screen. It transmits the video with the help of camera across the internet to the screen of the users. Recording live streaming with the encoder cause functioning issues which automatically affect your live streaming. If you choose the advanced encoder then it can handle both live streaming as well as recordings. 
12. Wired encoders are best than wireless
There is no doubt that wireless encoder helps to reduce the cutter in the physical environment. But on the other wifi-encoder have face lots of signals issues when messed with neighboring signals. If there are plenty of users using the same network then it will definitely get disrupted. 
Using cloud video encoder is the best option. Pick the right wifi that has good signals range and are free from buffering. If you switch to the wired band than it will not lose the streaming flow. 
13. Move to a lower resolution
Moving to the lower resolution is the best choice to avoid buffering. Using the internet on a small screen of 32 inches or less at 720p will help the bandwidth requirement for Streaming.
14. Update your Roku
MLB TV and HBO are the highly demanding channels as compared to the other streaming services. If you are looking for on-demand channels in your older Roku device than it is not worth it. You have to switch to the new quad-core standalone unit, dual-core, or quad-core streaming for on-demand.  
15. Your internet should be faster
If you have a small screen then the internet speed should be 3.5 megabits, 1080p require 5 megabits and 4k resolution – 25 megabits. If there are more than 2 people using the 1080p then internet speed would be average.
Final words
As you know that video buffering is the common issue which happens with everyone and we blame the service for this. But it occurs due to your home networks. Here in this article you will come to know the actual reason and causes for Roku video buffering and will help you to solve this problem whenever it will occur next time.