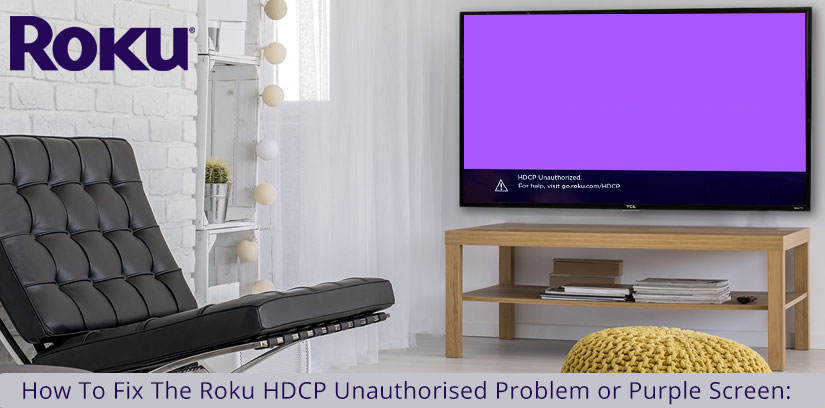 When the purple screen appears on your Roku device, then need to Fix Roku HDCP unauthorized error. Which appears on your Roku device indicates that your TV or video receiver does not support the contents that you are streaming.
Read More :- Fix No Sound in Video Error on Roku
After this you can not watch anything via the TV apps, – Netflix, Yahoo, 9Jumpin, presto, Stan, etc. All you get is a blue screen splashed across with the error message HDCP Unauthorized. Content Disabled.
In some cases, TV is the issue, especially television with multiple HDMI ports and devices plugged into them. Some people are known to fix this issue by turning off their TVs, unplugging them, and plugging them back in to reset the signal.
Read More :- How to Cast YouTube or Netflix on Roku
What Is HDCP?
Well, first off we'll explain what is HDCP?" Generally, HDCP is used by the TV and movie industry which is the copy and content protection standard. Mainly, it prevents pirates from making unauthorized copies of commercial VHS tapes.
This latest technology called high bandwidth Digital copy protection (HDCP) and this technology used on HDMI connections for digital devices like Blu-ray players, cable boxes, and Roku streaming devices."
When you are streaming 4K or 4K HDR content on these devices, you can use a newer version of the copy protection technology known as HDCP 2.2. This technology is specially designed for 4k Ultra HD (4K) content.
Read More :- How to Search Movies or TV Shows on Roku
HDCP Unauthorised Roku Problem: HDCP
 Error Roku

Purple Screen
Roku streaming player connects with your TV via an HDMI cable. High Definition Media Interface is an abbreviation of HDMI and this technology can deliver a pure, uncompressed digital signal with crystal-clear images and multi-channel audio.
When the Roku device detects that the HDMI link with your A/V receiver or TV doesn't support the copy and content protection technology that is known as HDCP. after detection you are going to get an error code 020 along with an error message on your screen, i.e., 'HDCP Error Detected' or it may display a purple screen Roku.
Read More :- Know How to Turn Off Roku Device
Defective HDMI cable or HDMI connector can another reason for this problem. You can follow the process given below to resolve this problem If you are dealing with HDCP unauthorized problems.
How To Fix Roku HDCP Error Detected Issue
Here we provide 3 best solutions for HDCP unauthorized Roku error or Roku HDCP error;
Turn Your TV Off or Unplug The TV
Follow these troubleshooting steps below and resolve your Roku purple screen fix problem;
When you want to stream 4K Ultra HD content and see the purple screen Roku, then you need to take the support of experts to know the steps for setting up a Roku media streaming device for 4K
If you continue to see an HDCP error detected message follow the second step.
Unplug the HDMI cable from Roku player and TV or AVR.
Shut down your TV and unplug its power cord.
Detach the power cord from your Roku player.
Now, connect both ends of the HDMI cable and ensure each connector is attached firmly and securely.
Again connect the power cord in both TV and the Roku device and wait for both devices to power on.
Try the video or app again.
Read More :- Know Everything About Roku YouTube Account
Replace The HDMI Cable
If you still face the problem, you should follow these other steps;
Now try a different HDMI input on your TV.
Try using a different HDMI cable if the current one is creating problems.
If you are using an AVR or HDMI switch, then connect the Roku media streaming device directly to the TV.
Use another TV if possible.
You can use another output device, which could be another TV or a computer monitor.
Use different display settings on a Roku streaming player.
You can find display settings under settings > display type.
If HDCP Unauthorized Content Disabled Roku error has appeared the first time, ensure that your TV or AVR supports HDCP.
Read More :- How to Get Disney Now Channel on Roku
Restart Your Roku Device
How to resolve Netflix HDCP unauthorized error on the Roku streaming device? You should follow the above steps to fix Netflix HDCP Unauthorised Content Disabled Netflix error. You can also restart your Roku device for fixing HDCP unauthorized Netflix problem.
First, unplug your Roku from power for at least 10 seconds.
Plug your Roku back in.
Turn your Roku on by pressing any button on the Roku remote.
Wait 1 full minute.
Try Netflix again.
You can also try these steps on your Roku streaming stick.
Amazon Prime HDCP Bypass
For a better understanding, we take an example If you have an older HDTV set you can't watch HDCP content on it because your device is not compatible with it. When you connect an HDCP compliant device to an unsupported compliant device, you will receive an error message or either see a blank screen.
An error message like NON-HDCP OUTPUT," "HDCP unauthorized," or simply HDCP ERROR
Your connected devices must meet HDCP (High-Bandwidth Digital Content Protection) and/or DRM ( Digital Rights Management) requirements to watch movies and TV shows on Prime Video.
Read More :- How to Get Disney Now Channel on Roku
For bypass HDCP you can use (HDCP Splitter) OREI HD-104 1×4 4 Ports HDMI Powered Splitter for Full HD 1080P & 3D Support. If your main purpose of using this is to bypass HDCP, you can hook it up in one of two ways.
First of all, run the console footage to the splitter. Then run an HDMI cord to the capture card, and after that from the capture card's output into the TV.
Run the console footage to the splitter. After that, run one HDMI cord to the capture card, and another one to the TV.
You do it this way because we find it more simple, and you don't have to turn on the capture card to display the footage if you are not recording.
Read More :- How To Create A Roku Account
If you have Amazon Fire TV and want to check HDCP 2.2 compatibility so check the following steps:
Open the Amazon fire TV display menu.
Settings > Displays & Sounds > Display
Check the video resolution section, which includes HDCP 2.2 specifications.
HDCP For Prime Video on Computers:
If you connected display screen and computer meet HDCP requirements so you easily stream Amazon Prime Video content in HD through your computer's web browser. Otherwise, you will face the problem of the error message and an error message shows in the player window, that time you can only watch plays in Standard Definition.
Read more :- Know 15 Tips to Stop Video Buffering on Roku
Final Words
I hope these solutions are sufficient to resolve your query regarding Roku purple screen, HDCP Unauthorised Roku error. Also, if you want more discussion, then you can call us at our toll-free Roku support number.