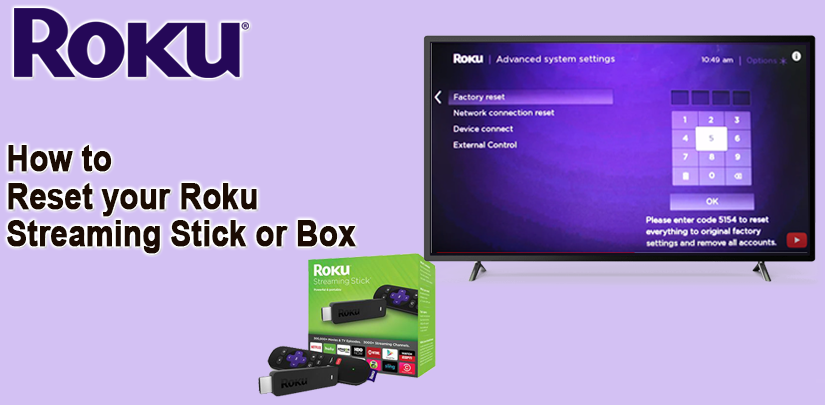 Roku is a media player device that connects your TV to the Internet digitally. We can attach this device to our TV and watch videos or channels. It is a streaming device that receives the data via a wired or WiFi connection from an Internet router. This data is output via High definition multimedia interface connector, an audio cable, or a video cable directly on some device models. In this article, we will explain how to reset your Roku streaming stick or box.
The availability of some Roku channels is Pandora, Netflix, Hulu+, Amazon and even the Church's own Mormon Channel provide quick and easy access to video content for playback on your TV. You can also store some videos on the Roku device because it contains some internal storage and it also supports the external storage.
Roku provides some devices like the Roku streaming stick or box for their user. These devices are easy to use and easy set up in your televisions. Sometimes the user needs to reset these devices for fast working settings. If you want to know about how to reset your Roku streaming stick or box. The reset process will remove all your data from your network connections, Roku data, menu Preferences, etc.
Roku streaming stick and box
Roku streaming box and stick are the devices that help to process the input and output. These devices are connected with the help of an HDMI connector or RF cable. Old generation Roku streaming box only accept the RF cable, but in the latest boxes, both are acceptable. This depends on your television, which of the one it accepts because some old version televisions do not accept the HDMI connector.
Roku streaming stick is the latest and advanced technology. This device only supports the HDMI connector because it is a very small and reliable device. You can easily carry this device on your pocket. You can control the box and sticks with the help of a remote. It is used to give the input to a Roku box or stick and they perform the output in our television screen.
Roku Stick Reset: Reason
Sometimes the user faced some problems with Roku device like slow processing or your Roku device not responding properly or Roku device stopped working. In these cases, sometimes you need to reset your Roku device. So here we provide easy help for Roku user to reset the Roku device. Now we discuss the method of reset Roku stick.
How to Reset a Roku streaming stick or box?
The reset process of both devices is similar because both contain a remote device and output functions of these devices are the same. You can follow our steps for reset Roku devices.
Switch on your television and Roku streaming stick or box. Then press the Home button on your remote device to open the main screen.
After this scroll it down and you can find the setting option. Then you have to select the setting option.
You have to press the right arrow button form your remote and scroll this. If you find the system option then select this.
Now press the right arrow button and scroll. Now select the advance system setting option.
Again press the right arrow button and scroll. Select the factory reset option and enter the code which is given by Roku and it also asks for combine the button press.
Now press the right arrow button and scroll it again. You have to select Factory reset everything for erasing all the data from your Roku streaming stick.
Wait for some minute because it takes a few minutes for reset. After some minute Roku automatically starts and your device is ready for the work. Now you can easily use your Roku device. When your device shows errors and properly not working then You can reset the Roku device for fast performance.
Hard reset
This is the way to go reset your Roku if all else fails. It is not the cleanest way to reset your device and prevents you from using a software reset.
Locate the Reset button on your Roku. A reset button is different in newer and older Roku models. Newer models have an inbuilt reset button but older models require a paper clip or a pin to reset. New Roku models Roku 4, Roku streaming stick 2016.
Hold down the reset button until the device actually resets.
Hold down a reset button a few extra seconds until you see the Roku logo on the TV screen.
For any further support or information, contact our Roku support service.

We provides Roku streaming stick and box reset process for all the user. If any user want solution in How to reset your Roku streaming stick or box? Then we helps in all the issue about Roku com link.