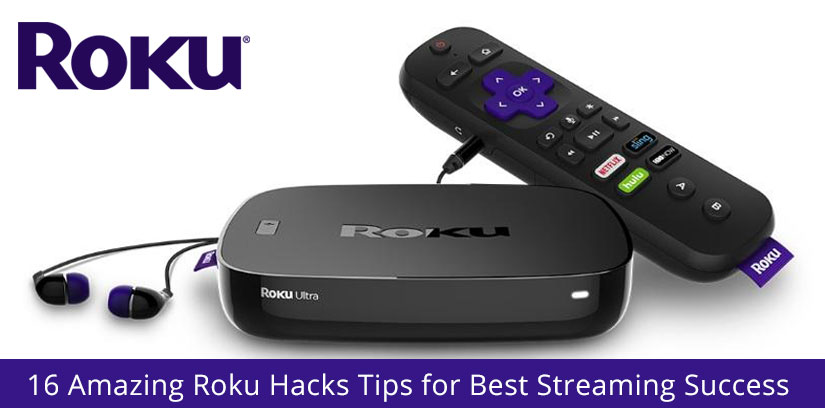 Roku has a lot of features, workarounds, and hacks available that can extend Roku's content reach and operational flexibility. There are amazing tips and tricks that will vastly improve your experience. Here are 16 of the best ways, and you can use these ways to make life easier.
Roku Hacks Tip | For Best Streaming Success
Roku Free Movies Hack: Watch Free TV Shows
It's easy to find free movies and TV shows on Roku in the following ways;
The Roku Channel features include a selection of free movies and TV shows. On Roku, you can see the daily updated listing of the most popular channels that offer free content. By Roku remote press the Home button to see this list, go to Streaming Channels, then select Top Free.
Read more :- Know 15 Tips to Stop Video Buffering on Roku
Now you can add any of the channels to your own list from there. If you already know the name of the free channel you want to add, you can go to Streaming Channels and type it into the search option and see if it is available on Roku.
Go into the search category on the main page and then type in the movie or program title and see if it is offered by a channel available on Roku and if any viewing fees are required. This is another hacks tips to search for free movies on Roku.
Read More :- Know How to Create Roku Account
Finding 4K Channels In The Roku Channel Store
On 4K enabled Roku device you can find out what there is to watch in 4K by clicking on Streaming Channels and selecting UHD Content Available. 4K content is best because it brings ultra-sharp picture quality.
You can go to the Roku Channel Store directly from your Roku streaming device.
On your Roku remote press the Home button.
Scroll up or down and select Streaming Channels.
Now choose 4K UHD Content Available to browse channels that offer 4K content; Some will also offer movies and TV shows in 4K HDR. Contact the channel provided to learn if they offer content in 4K HDR.
Read More :- Know How to Cancel Roku Subscription
You can also install the 4K Spotlight App from the Roku channel store and search the available programs and movies offered in 4K across multiple channels.
Note: 4K Spotlight options are only visible on 4K Roku devices, such as the Roku 4, Premiere, premiere+, Ultra, Streaming Stick, and 4K Ultra HD Roku TVs.
Watch Over-The-Air Live TV
A combination of a Roku stick or box with an OTA (Over-The-Air) DVR is best. This combination provides a better facility such as Tablo or external tuners such as AirTV and Clearstream TV.
Read More :- Increased Storage Space With MicroSD on Roku
When you set up this device it receives a signal from the antenna and then streams them wirelessly to your Roku streaming stick or box, via the installation of their companion Roku Apps. It is one of the best hacks tips on the Roku device.
Tablo is the best way to record local news coverage, special events, or your favorite network shows. If you want to record these things you can use Tablo, it's simple and easier. It offers several DVRs for Roku, which can be used to record OTA television and stream OTA coverage directly to your Roku using Wi-Fi.
The unique features of Tablo are allowed you to fast-forward, rewind, pause, and record your favorite shows directly to your Tablo device.
Add Hidden or Non-Certified Channels
Adding Non- Certified, secret or private channels is the most popular Roku TV hacks. These FF channels do not show on the Roku streaming channel list.
Read More :- How to Stream My Content on Roku via USB
First, you log in to your Roku account on a PC or smartphone to enter a special code. See the details and add these channels carefully after reading instructions. For more details on how to add channels to Roku.
Eliminate Buffering or Freezing Video
All devices work in different bandwidths; Some of them support your bandwidth or some not. It means you may encounter buffering, skipping or freezing on some content because your internet speed is not fast enough.
Buffering also depends on your monthly subscription fees, if you watch too much streaming content in a limited package, you may be charged overage fees.
Here are the best hacks tips for the Roku device. You can change the setting, go into a secret menu, and change the bit rate at which your Roku receives the streaming signal. It overcomes the buffering and freezing problems, as well as save on any data cap.
Read More :- How to Fix Roku Infrared Remote Problems
To make this change press home five times, RW three times, FF twice, on your Roku remote. Now you can opt to leave the setting on Auto (default) or set it to a specific rate.
Watch Kodi On Your Roku
Kodi is used as a powerful streaming app that helps the user to stream their favorite media. One more Roku hacks is that. Using your Roku and screen mirroring, you can watch Kodi because Roku does not officially support a Kodi channel.
Check Your Wi-fi Signal Strength
No need to check your Wi-Fi signal in relation to your Roku device, this another reason that you may be having trouble playing streaming content on your Roku. To check the precise strength of your Wifi signal, pick up your Roku remote and press Home five times, then Up, Down, Up, Down, Up.
Read More :- How to Enable Closed Caption on Roku
The secret menu is available in Roku to search Wifi signal strength.
After that, you can read the instructions and follow them, and also perform to check the strength of your Wifi signal.
Use Roku Mobile App
Roku mobile app support both iOS and Android, you can be using a mobile app instead of using a Roku remote.
Voice search capabilities are also inbuilt in the app.
In the Roku TVs, the mobile app controls both streaming and TV functions, such as input selection, OTA channel scanning, and both picture and audio settings.
To listen privately to your Roku channels using the smartphone's speaker or earphones this is good features of the Roku app.
Read More :- How To Fix Roku Overheating Problems
Mirror Your Smartphone
You can use the screen mirroring option in your compatible Android smartphone. Once a smartphone connects your Roku device you can manage easily all services, your smartphone screen displays all options.
You can't do another task on your phone while your content is being mirrored, screen Mirroring does not require any network connection.
The smartphone directly sent the signal to the Roku device or Roku TV.
Activate the Screen Mirroring/Miracast feature on your Android Phone first via your specific phone's settings to enable screen mirroring on Roku. Now use your Roku remote, press the Home Button, click on Settings, System, Screen Mirroring, and then choose from one of several screens Mirroring Modes.
Prompt will display to your Roku device an on-screen confirming a screen mirroring request.
If screen Mirroring is enabled any time it is detected to always allow it.
There is no on-screen prompt.
If all screen mirroring is blocked without an on-screen prompt appearing to never allow this option.
If the "Always Allow" or "Never Allow" options have already been chosen you will not be able to choose "Allowed Devices" or "Blocked Devices".
Read More :- Fix No Sound in Video Error on Roku
Use Screen Casting
Cast feature is another option to view content from your smartphone on your TV using Roku. you can perform another task at one time on your phone while using these features. This feature also supports Android and iOS devices.
When you use cast features, both your mobile device and your Roku do need to be connected to the same WiFi network. All apps do not support casting, whereas Screen Mirroring supports all apps.
Play Games
By using your Roku you play a game as well to watch movies and shows. You can purchase a Roku Enhanced Voice Remote or Gaming Remote to play a game these remotes have come in an optional accessory purchase.
Add Any Screen Saver
Read More :- How to Cast YouTube or Netflix on Roku
You have to select default screensavers that come to your screen after a period. When you have Roku selected but are finished watching content for a while and leave your TV. The default screensaver will be displayed on your screen after a period. You can choose any type of screen saver which is perfect for you such as a fireplace, art or NASA and fantasy space images.
Play Content Stored On PC or Other Storage Devices
You can play music, photos, and videos by a Roku media player app from PCs and media servers connected to the same home network.
This app is compatible with media servers software platforms such as PlayOn, Plex, Serviio, TVersity, Twonky and Windows media players.
Take Command of Your Roku With Alexa or Google Home
Roku has a voice-enabled remote control that controls by a voice. You can also control some Roku functions hands-free by voice with Alexa or Google Home.
Use a third-party app from Appestry called Quick Remote for using these features. For Google Chrome, the app is available only for Android, but for Alexa, the app is available for Android and iOS.
Read More :- How to Search Movies or TV Shows on Roku
After downloading the Quick remote app, follow the Alexa and Google Chrome instructions.
In the Quick remote app, free commands per month limit are 50, which runs out fast. For more than 50 commands a month, the subscription fee is $.99 per month or $9.99 per year.
Turn On Instant Replay With Closed Captions
You can use these features to instant replay watch the shows, movies. Sometimes we can't understand the shows or watching the movie due to interruption so we use these features to again watch the movies and shows.
For set up these features on Roku,
go to the on-screen menu.
Click on Settings
then Captions (on some models you may be prompted to click on Accessibility, then Captions),
followed by Instant Replay.
Read More :- Know How to Turn Off Roku Device
Listen Through Headphones On Select Roku Devices
In the market, Roku comes with a variety of models. You can select Roku models to provide a remote control that comes with a headphone jack and a pair of earphones.
When you prefer private listening so you can listen with the earphone, your Roku device sends audio wirelessly.
In addition, if you want sounds to both your earphones and your TV audio system at the same time. You can turn on these features by remote and follow the instructions. Twice time Volume Up and Volume Down, and Three times Volume Up and Volume down, finally activate Audience audio.
We've only listed 16 tips. Undoubtedly, users will have lots of tips and ways available for Roku. If you've got some tricks that we haven't covered, you can apply those tricks and make the streaming faster. If you need more information to contact our Roku support number.
Read More :- Know Everything About Roku YouTube Account
Final Words
I hope the above information explains to you some hacks tips for the Roku device. For more help, you can contact our Roku support number. We are available 24/7 and 365 days for your service. Call us anytime as you need help to regard Roku media player.