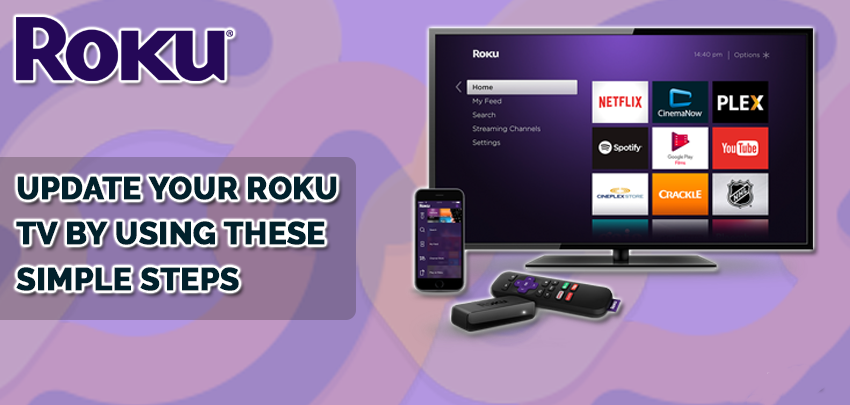 Roku is a set-up box for your TV, which allows the user to view free content on his TV and comes loaded with apps like YouTube. With this article, you will learn how to update your Roku TV easy steps.
Check For Update Your Roku TV
Check your system for updates. If you do not get the notification for updates, you can manually check for updates. This can be done by pressing the Home button on the remote and scrolling to the Setting menu. There you will find the option 'system'. Click on 'System', another menu will appear and select 'System Update' inside that menu. If there is a new update for your TV software, you will be able to see it there. You can click on new updates to download it.
Adding information
If you are using an Internet browser to check for updates, then go to tvupdate.roku.com. You will find a drop-down menu where after selecting your device from the drop-down menu, input your device number and other details for the model number. After selecting your model from the drop-down menu, you will be able to add more information to see what kind of update is waiting for your device. Through this method, you will be able to download updates from your browser.
Enter Model Number
After selecting your TV model from the drop-down menu, the option to input your model number will appear. You need to add your four-digit Roku model number to open another window for updates. The window for updates will only open when you input each detail carefully.
Update and Download
If your model has a new update, the website will show you another dialog box with details of the new update. There will be two options in the dialog box, 'already' or 'download'. By clicking on the download options on the menu, you will be able to download a new update.
Getting the 12-digit Number
If you choose to download the update, you will need to find updates. Roku files on your computer Once you locate the update file, transfer the file to the USB drive using your remote control to validate the USB and find updates for your TV. And install it on your TV by clicking on it. Once you do this, add a twelve-digit code, which you can find by using the following commands> Settings> System> System Updates> I can not connect. This will take you to another dialog box.
Installing
After finding the 12 digit number, all you have to do is input the number in the dialog box. Once you input twelve digits, your work will be completed. It will install TV updates when your TV has finished installing the update, it will show you a message that will tell you that your update was successful.
It should be remembered that your TV will be updated only if you add the twelve-digit code correctly. Also, if your TV is already running on the latest software, it will show you a message in which the files for the update folder are not valid.
Final Words

We hope you are satisfied with the above details. For more guidance, you can visit Roku Com Link Support. Our experts are available 24×7 to deal with your concerns.