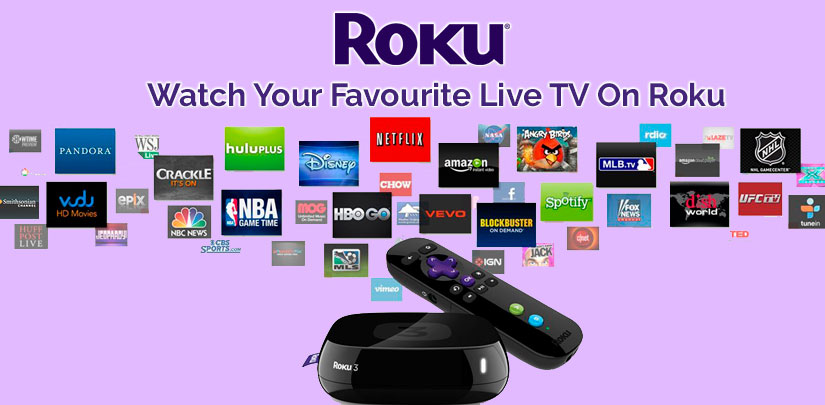 Want to save money for watching live TV? Roku provides you with the ultimate solution to stream live. If you have buddies who have already purchased a membership of Roku, believe me, they have saved lots of their income for the live TV.
There are many happy Roku customers who are enjoying their Live TV. So, you can also watch live TV on Roku for free, but before that, all you have to do is to own membership in it.
Read more :- Know 15 Tips to Stop Video Buffering on Roku
How To Watch Live TV On Roku with Live TV Apps
There are several apps on which you can watch live TV Roku for the respective category. Have a look at them and save your money for paying to unnecessary services. To watch Roku live TV, you just need to subscribe to the Live TV streaming service of Roku.
Channel Bundles (Live TV)
Roku has three handpicked channel Bundles or you can say Live TV, which you will love to watch live TV on Roku.
Read More :- Know How to Create Roku Account
DIRECTV NOW
The video streaming service of AT&T's. DIRECTV NOW provides live sports, on-demand programs, premium channels, Trending shows, and Box Office collection breaking movies are available for some selected devices.
Sling TV
Sling TV was specially made for the cord-cutters. If you do not want to pay for the subscription of TV, this allows you to ingress to numerous live cable channels anywhere in between 25 to 100 channels. It depends on the package you have selected for the Sling TV.
Maybe it is much inexpensive than a subscription to regular pay TV. In Sling TV's subscription, you will get several channels starting from $20 per month such as AMC, TBS, and TNT. Recently, Sling TV has added NHL Network into its Extra Sports pack for the hockey season.
Read More :- Know How to Cancel Roku Subscription
PlayStation Vue
PlayStation Vue is alike Sling TV, perhaps you have to spend a bit more in order to view more channels. The true channel lovers will love Vue. You will get more channels such as Syfy, Bravo, the FX, and also the Food Network. Here the advantage is that there is surely something for every particular and an unmatched cloud DVR.
Read More :- Increased Storage Space With MicroSD on Roku
News (Free)
Those who want are news lovers, Roku has something for them. Because there are many peoples who start their day by watching the news and ends with the same. Roku has two best news streamers for you.
News On
Many of you love to watch live news, NewsOn provides you live news, local-news across 130 local news stations. It is completely free, and you can stream live news on it according to your wish.
Newsy
Newsy provides you 24/7 live stream news experience. This service of Newsy is completely free hence, to watch, the subscription is not required. Preferably entire news shows, it is entertainment due to short, impartial videos via top news stories of the day.
Read More :- How to Stream My Content on Roku via USB
Sports
Roku also has sports channels for the die-hard fans of sports. As you know, Roku cares about the choice of their customers so, it picked the best live sports channels for you.
WatchESPN
To stream WatchESPN channel you are required login details for any one of these: ISP, Sling TV, the cable subscriber, or PlayStation Vue. If you want to stream real-time sports, this is the best option for you. You can watch any sport broadcasting live at the same time it is being broadcasted on channels.
Which include ESPN, ESPN2, ESPN3, the SEC Networks, and several other channels. However it values nothing which channels are offered to you to stream by WatchESPN, but it depends on what you have with your subscription of Pay TV.
Read More :- How to Enable Closed Caption on Roku
Fox Sports GO
You also need a subscription for Pay TV or PlayStation Vue in order to access the live content. After login, you will get access to stream multiple types of sports according to your local area.
WWE Network
The peoples who are the fan of wrestling cannot get much of the WWE Network channel. Its subscription will cost you $9.99 per month. Simply log in with your subscriber details and watch WWE pay-per-view every event live. You can also stream Wrestle-mania and WWE related all reality and documentaries shows.
Read More :- How to Fix Roku Infrared Remote Problems
Fubo.TV
If you want to watch live soccer or on-demand, you can choose Fubo.TV for just $6.99 to watch matches from many football championship cups like La Liga, Capital One Cup, Copa Del Rey, and more others.
NFL Sunday Ticket
You must have DirecTV login to watch live sports on NFL Sunday Ticket and can stream live old NFL games for the entire Sunday. DirectTV subscribers can also enjoy the DIRECTV FANTASY Zone, which provides you with the analysis of the game, real-time stats, and lots more.
Nevertheless, it is just available for the students of the college and also for those peoples where there is no satellite service for DirecTV.
Movies Or Live TV
Over 180 million US citizens watch movies and live TV every month. But they also spend more on enjoying it. Roku has the solution to control their expenses only for live TV and movies.
Read More :- Know How To Fix Roku Overheating Problems
HBO NOW
If you want to watch HBO NOW, you will need to subscribe to it for just $14.99 per month. Technically, it is not live TV, yet the prime shows broadcast on HBO NOW channel at the same time they broadcast on TV.
After subscribing to HBO Now you also get access to every HBO show and various most liked movies. Do you have cable? You can then log in to HBO GO, which provides the exact content.
Pluto TV (Free)
Pluto TV is not a channel that has more than 100 linear streaming channels in a TV guide interface. You can watch here live news, movies and also YouTube videos, It means everyone has something to watch here with their choices.
Read More :- Fix No Sound in Video Error on Roku
SHOWTIME
The original series of SHOWTIME's Standalone Roku Channel has a live stream of what is currently running on SHOWTIME with an on-demand library of comedies, sports, movies, etc. After the free trial 7-day, SHOWTIME is available for only $ 10.99 per month.
I hope that now you have the answer to your query if you want more discussion or have any other queries in your mind then you can call us at our toll-free Roku support number.