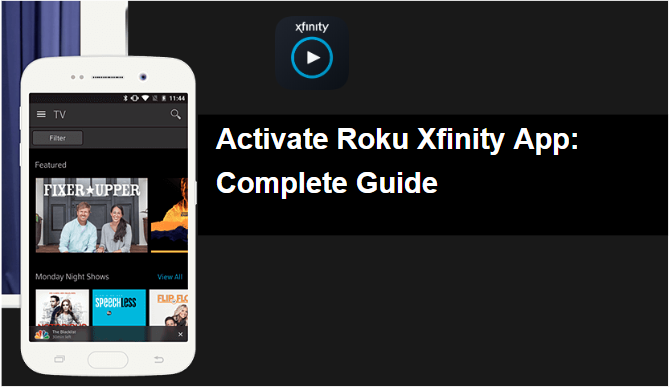 Xfinity stream app is developed by Comcast and supports to Roku device, Samsung smart TVs and other Partner Devices. Which is good news for Roku device users and its most-watched channel on Roku TV? If you have Comcast Xfinity account so you easily watch the channel on Roku.
This app delivers live broadcast channels, linear cable channels, cloud recordings and video on demand. For this, you don't have any need to rent an Xfinity TV Box from Comcast. We would discuss below Roku Xfinity App, Comcast Roku problems and other perspectives of Xfinity stream app Activation.
Read More :- How to Fix Roku Infrared Remote Problems
How To Activate The Xfinity Stream App On Roku
You can also visit video link of Activate Roku Xfinity App
Follow the steps of Roku Xfinity App activation below;
First, you install the XFINITY Stream Beta channel for Roku then follow the installation instructions here.
On your device Open the "XFINITY Stream Beta" channel.
Now launch the channel app and select Get Started to continue.
Just tap the OK button on your Roku remote process is a start.
Now you will receive the Xfinity activation code on the screen.
Go to https://xfinity.com/authorize by computer or mobile device, and type in the 6 digit code displayed on your Roku.
Now complete the Sign in the process and Enter your Xfinity username and password, then click Sign In. Wait until the XFINITY login page will load.
If you don't have an account create it,
Type the code below;
After that enter a mobile number;
After the process, you will receive a Success! The message, notifying you that your Roku device screen will update shortly.
Now read the terms and conditions, and select options related to accept the terms and continue. If you choose No, so you will back to the 1st step of the activation process.
These two options will appear on the screen.
Read More :- How to Fix Roku Overheating Problems
Terms of Activation: Cloud DVR Customers
Terms of Activation: Non-Cloud DVR Customers
Next, enter the name of your device.
The home screen will appear in front of you and now you are ready to begin using the app.
Features of Xfinity Stream Roku
Below we provide the best features of Roku Xfinity app so you easily enjoy streaming;
Search tab– By this, you can easily search your favorite programs such as Movies, TV shows and a lot more
Browse tab: You can to browse the live programs and also choose the category that suits your interest
Instant Replay button: You can replay and watch the videos any time by the use of Use the Instant Replay button
Use of left and right directional Pad to rewind and fast forward the videos
Channel option: By name or code you can find the channel as you want.
Change and Select channel: You can change the channel and make the selections easily by the mini menu.
Read More :- Ways To Fix No Sound in Video Error On Roku
Key Features of the Xfinity App
Filter by Available Out of Home to watch more than 200 channels of Live TV on the go from any available WiFi or cellular connection in the U.S.
More than thousands of TV shows and movies available for streaming On Demand. For offline viewing download options are available.
In the U.S. with an internet connection, X1 and Instant TV Cloud DVR customers can watch saved recordings from anywhere.
Once you sync with the Xfinity Stream app, you can easily track the channels, TV shows, movies, & sports teams.
You can use the search function to search the favorite Tv shows and movies.
We provide the list of various programs and features, you will find in the Xfinity TV app.
Cloud DVR recordings
Xfinity guide
Live and ON demand programming
Cable programming
Local broadcast
Public education and govt. channels
Premium, networks
Read More :- Ways to Cast YouTube or Netflix on Roku
The "XFINITY Stream Beta" channel works on these Roku devices:
Roku TV (5XXX, 6XXX: Models within the 5000 and 6000 range)
Streaming Stick (3800, 3600)
Streaming Stick (3810)
Roku 3 (4200, 4230)
Express (3900, 3700)
Express+ (3910, 3710)
Roku 2 (4210)
Premiere (4620)
Premiere+ (4630)
Ultra (4660, 4640)
Roku 4 (4400)
Read More :- How to Search Movies or TV Shows on Roku
Navigating The Xfinity Stream Beta App On Roku
Navigate the menu to view the options such as search, Live TV, Browse, Saved, settings. After completing the process of Activation Navigating the Xfinity Stream App on Roku.
Main Menu
Once you complete the activation process of Roku Xfinity App you have reached the main menu then some option will be shown which is listed below;
Search
Browse
Live TV
Saved
Settings
Read More :- How To Enable Closed Caption on Roku
Search
You can search for anything such as movie, TV shows or channel
Use the Comcast Xfinity on-demand Features;
Finding a program without an exact name: This is good features and help your's when you don't remember the exact name of the program so it will recognize program title synonyms so if you type in "Law and Order" it will return results for "Law & Order";
Finding a movie: Comcast Xfinity on-demand features are good and you can find a movie who wants to see. When you search the movie name, results are only returned for programs and movies that are currently available. However, every time new content is frequently added to Xfinity On Demand so if you want to return back to many times to watch the movie here so save your search and run the search again on a different day you may get different results.
You enter the favorite musician name, brand and song name results will appear related to your query.
Adult-rated programs don't appear in search results.
After using the Comcast Xfinity on-demand Features, you can browse your favorite shows and movies.
Read More :- Ways to Stream My Content on Roku via USB
Browse
You can browse live TV and On Demand programs on TV, Movies, Networks, Sports, Kids, News, and Latino.
Use the Xfinity Instant Replay button features by pressing the button on the Roku remote will skip back 15 seconds during video playback of Xfinity On Demand content.
You can also enjoy the rewind and fast-forward video during playback of Xfinity On Demand content (unless restricted). By pressing the Directional Pad Left and Directional Pad Right, respectively.
Live TV
You can watch live TV, view TV Listings for all of your channels, watch live TV, set episode or series recordings, and view the programs in a certain category – Favorite Channels, Kids, Sports or Movies – that are on now or coming up soon. Home XFINITY network gives the permission to watch the channels on your lineup.
Use Playback controls to control accessibility settings, including video description, secondary audio program and closed captioning.
Read More :- Increase Storage Space With MicroSD on Roku
By selecting Find a channel on Live TV you can access Filter Preferences and Search. After that it will take your main search page, to search for a movie, TV show or channel.
Find a Channel: By name or number you can Find a channel
You can filter the Live TV by;
High Definition
Video Description,
Closed Captioning and
Secondary Audio Program
The mini menu helps you to discover and quickly change to other live channels and you can access the Mini Menu by selecting Mini Menu on the media player or pressing right on your Roku remote.
Read More :- Know How to Turn Off Roku Device
Saved
View the "For You screen", Recordings, Scheduled Recordings, or Purchases (when applicable). Use the Instant Replay button and Pressing the Directional Pad Left and Directional Pad Right button on Roku remote. We can discuss these features in detail before in the article. By highlighting the TV episode you can delete recordings
On your device, you cannot delete recordings in bulk (for example, an entire series). This can be done directly on your Roku TV Box. If you delete the recording and want to recover recordings so you may also recover recordings that were deleted in the past 24 hours.
For recovery, recordings go to saved then click recordings and click Deleted Recordings and now selecting Undelete.
Read More :- Know How to Cancel Roku Subscription
Settings
App settings include Language, Parental Controls, Accessibility, Format and Help Options.
You can choose the default language for Secondary Language soundtracks and language settings do not change the language for menus or TV listings.
Parental Controls are the best features for parents they can set this feature according to your choice are device-specific.
Don't confuse the setting of parents' control, if you previously set Parental Controls for another device, you have to set them again for the Roku device, like Parental Controls default to the Off mode.
On a certain device, the Accessibility option provides Audio Guide (voice-over) functionality which is beneficial for Roku device users. Users can take help from the voice guide and complete the set of the process. You can follow the steps and enable the setup;
Settings > Accessibility > Audio Guide
Read More :- Know Everything About Roku YouTube Account
Roku Streaming Stick (Model 3600), Express (Model 3700), Roku Express+ (Model 3710)

Roku Premiere (Model 4620),

Premiere+ (Model 4630),

Roku Ultra (Model 4640)
Turn Video Description: This option helps you to listen to an audio description of a program's key visual elements, On or Off in the Accessibility menu.
Format option: If you select the Standard Definition (SD) version so settings to allow you to automatically tune to the High Definition (HD) version of a live TV channel. The HD Preferred option is selected by default.
If you face any difficulty you can take help from a Help option is located in the Settings menu that will direct you to xfinity.com/xfinitystreambeta for more information.
Read More :- Know 15 Tips to Stop Video Buffering on Roku
In the settings menu, the option to Sign Out of the app on your Roku device is also available. You can easily sign out by tapping the OK button your Roku remote. Now, you will then be returned to the Getting Started screen.
After discussed Roku Xfinity App, we provide the information about how to get started with the Xfinity Instant TV Roku
How To Get Started With The Xfinity Instant TV Roku
Xfinity Instant TV is just like a cable TV streaming service that provides the live TV from broadcast and popular cable networks on your computer, tablet, smartphone or Roku Streaming Player.
You can enjoy local and national live sports, news and the most popular shows as they air. You also add premium channels and channel packs. Watch the recorded show at home or download them and Record up to 20 hours of your favorites.
Access thousands of hours of Xfinity on-demand tv shows and movies anytime on your favorite device. The U.S. users stream TV Go content on any wireless or WiFi network anywhere.
Read More :- Create Setup Link Account With Roku Activation Code
What You'll Need To Start
Xfinity Instant TV
Xfinity compatible equipment such as cable modem or Wireless Gateway
A compatible computer or device with a browser installed
Username and password Of your Xfinity account
If you don't have an Xfinity Username? It's not a big problem and you'll get one when you activate your Xfinity Internet service, which we'll get to in a minute.
You can access Xfinity Instant TV from your devices, download the Xfinity Stream app onto those devices. Select your device and download its various platform which is listed below;
Read More :- How to Get Disney Channel on Roku
After downloading the app on your device, start the process of using Xfinity Instant TV on Roku via https://www.xfinity.com/stream/
Tips To Resolve Comcast Roku Problems
First, you check the following devices
TV & Roku
Ensure the correct HDMI input is selected on your TV set for your Roku device.
Check all cables are secured and plugged in and your devices powered on.
Roku remote
Use a fresh set of batteries.
Remove obstacles between remote and TV that may be blocking the line of sight.
Read More :- Know How to Create A Roku Account
Roku Device :
Update a system of a Roku by going to the Roku;
main menu > Settings > System > System Update
Be sure your device is one of the supported Roku models.
XFINITY Stream Beta Channel For Roku
Issues:
Cannot stream content
Channel streaming interruption
Cannot log in to Roku account
A stream is freezing or jumping in and out
Cannot Xfinity com authorize Roku with university credentials
Resolutions:
Go to the XFINITY Stream beta account and Sign out & sign back.
A strong network connection is required to check your connection & ensure your Roku device is connected to your campus network.
Contact your campus help desk for issues with Wi-Fi or network and with your campus username & password.
Reset your username and/or password.
go to Settings > Network and Update or Setup a new connection on your Roku device power cycle your Roku.
If problems are related to unable to stream on your mobile device or web browser check all perspectives.
After that submit a request to the XOC support team. In the request include the Version or build number of your XFINITY Stream channel app by going to Settings > About.
Read More :- Know How to Activate BBC on Roku
We hope the above discussed complete guide of the Roku Xfinity App is helpful for you. In any case, if you have any issues related to the Xfinity Stream app, feel free to contact our Roku customer service at.