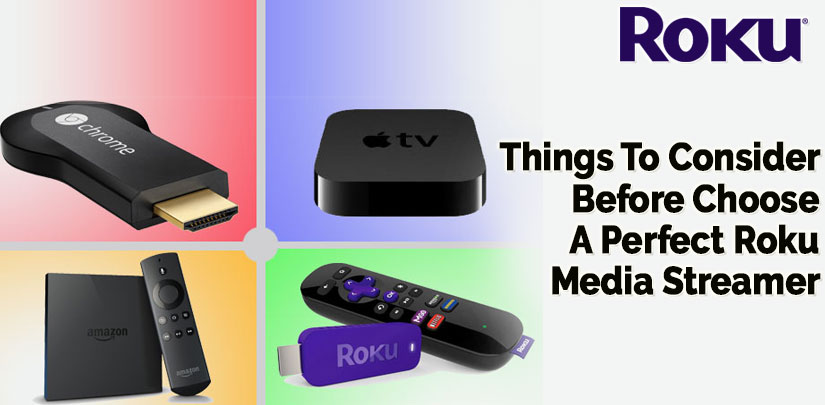 In this article, you are read about which Roku media streamer is best for you. There are a lot of media streamers available in the market. But there are some proposals in the form of a wide range of apps. And channels in the form of a Roku.
The company is building online streaming boxes for many years which includes a couple of TV boxes because Sky holds a firm stake in the firm. In the USA you have five players available to choose from.
Read More :-  Know how to activate and set up a Roku account
Why Consider Roku To Buy?
Roku is a digital media company that makes media streaming players. These smart players essentially turn standard TV into a smart TV. All the Roku digital streaming sticks and streaming boxes usees an internet connection that lets you watch movies and TV shows on your standard TVs.
Read More :- How to get Google Play showtime subscription
You can watch from online streaming platforms such as Netflix, Hulu, Disney Plus, Amazon Prime Video, and many more. If your TV does not have any Smart functionality. It means it can not connect with the internet and can not download applications. Thus you have to buy a separate media streaming player.
The Roku device lets you access all the apps like – YouTube, Netflix, Hulu, and many others. Also, if you already have a smart TV then a Roku player might provide certain apps and playback features. Which depends on your display model and that does not include on your TV.
Read more :- Know 15 Tips to Stop Video Buffering on Roku
Points To Remember When Buying Roku Media Streamer
Roku OS
All Roku media streamer or players run Roku OS, a user interface designed to make the content as easy as possible. Roku calls this app "Channel" and probably offers the most comprehensive selection including Amazon Video, Netflix, TV player, US boxes are served as well.
Read More :- Know How to Create Roku Account
The features of Roku OS include Roku Search, which lets you search by movie titles, actors, or directors. It will give results based on your terms. The results will show you what you can see for free, what you need, and what you can rent or buy.
The Roku feed shows you what movies are there in the cinema, then you can set a reminder so that the player will tell you that when those films are available to watch on Roku channels.
Read More:- Know How to Cancel Roku Subscription
Roku In The US
There are five different Roku media streamer or player options in the US, with 4K support on high-end devices. There is a better processor in the current version of the Roku media streaming stick, which Roku says that pre-fire TVs provide more power than the stick. It was also given dual-band MIMO wireless connectivity.
Read More :- Increased Storage Space With MicroSD on Roku
It gives a clever private hearing mode through a companion smartphone app. The US version of the streaming stick is similar to its UK counterpart. It is more powerful of two streaming stick options and plugs directly into an HDMI port on your TV, but make sure you have a nearby socket for electricity.
Read More:- Know to find wireless Name and Password on Roku
Simple Standard Roku
Roku Express is easy to use but somewhat it is limited in features. Therefore it is useful for people with a standard HDTV that does not come with 4K Ultra HD features. It provides the same Roku menus and channels. Also, it lacks some extra features.
Read More :- How to Stream My Content on Roku via USB
Such as voice search, and the ability to control your TV's volume from the remote. However, the remote control must need to be in proper visual sight of the Roku streaming box to work. Because it uses a standard infrared (IR) function to communicate instead of Wi-Fi.
Roku HD & 4K Quality Streaming
This is much smaller than the full HD streaming stick which has a power cable. It also doubles as a cable signal booster due to a small module made in the cable. It helps to provide up to four times the wireless range to reduce buffering. Although the main feature of streaming stick+ is its 4K HDR capabilities.
Read More :- How to Get Disney Now Channel on Roku
You can get 4K content only from supported apps like Netflix and Amazon, and you will need relevant membership options for each. The streaming stick+ adds a 4-channel spotlight on the home screen, which in one place aggregates an entire load of 4K content through Roku app channels.
Read More :- How to Get Disney Now Channel on Roku
Roku Mobile App
With the streaming device you have, Roku also has a mobile app for iOS and Android devices. With it, you can access pre-installed channels. Search for new stories to add channel storage as a remote control and use them. At the bottom of the screen, there is a navigation bar.
Read More :- How to Enable Closed Caption on Roku
Which provides quick access to some of the most popular tasks, including channels, what is going on. Where you get other recommended content, quick launch for remote control and access to photos you can use. On TV, you can send it to your streaming device.
The remote app can also be used to enable the private listening facility. So that you can connect your headphones to your phone and listen to the audio from whatever you are seeing in private, instead of the sound coming from your TV.
Read More:- Know why Roku device stopped working?
Roku with Voice And Wi-Fi
The Roku Streaming Stick Plus is the proven best Roku streaming device for most of the people. This Roku device works with 4K HDR or HD televisions and smart TVs. However, it sticks into the backside of your TV's HDMI port. Also, it has a second cable that plugs into a USB port to provide continuous power to this device.
Read More :- How To Fix Roku Overheating Problems
Roku streaming stick has TV volume and power control, voice search, and dual-band Wi-Fi that works for a longer range. Also, it can connect to 2.4 GHz and 5 GHz networks too. This makes it particularly handy and easy to use for people living in city apartments. Because there are many other nearby Wi-Fi networks that may interfere with your signal.
Hence it is really the best option for everyone. But before you buy it, you must check the back portion of your smart TV. So that you can make sure that your TVs HDMI ports are aligned in a way and that will let you plug in a streaming stick.
Read More :- Know Everything About Roku YouTube Account
Roku With Earbuds & Ethernet
The Roku Ultra has a larger size box that lets you enjoy HD or 4K HDR picture quality. Because it performs similarly as it promises. Roku Ultra has all the promising features that we have talked about so far. Such as voice search and a dual-band Wi-Fi capability.
Read More :- How to Fix Roku Infrared Remote Problems
But on top of those advanced features, it also has an Ethernet port. Which gives you more stable wired connections. Although the Roku Ultra has a headphone jack on its remote. Also, it comes with surprisingly very decent JBL earbuds. Thus you can enjoy watching your favorite TV shows in private when other persons fall asleep.
Read More :- How to Fix No Sound in Video Error on Roku
Also, it provides you other small but great features like a USB slot, MicroSD card support, a remote finder, gaming buttons on your remote, and a night listening mode that quiets other annoying sounds for you. The Roku Ultra 2019 comes with very useful and programmable two favorites buttons.
That makes it very handy to quickly launch Plex and other apps. Although even the newest and best Roku model lacks support for the most advanced HDR codecs: HDR10+, and Dolby Vision, unlike the top streaming devices from Google and Amazon.
Read More :- How to Cast YouTube or Netflix on Roku
Roku Media Streamer With A Soundbar
Roku Smart Soundbar is the only thing that you will desire. If you are seeking to upgrade the media streaming capability and also want a better quality audio output of your TV in one single and compact unit. Because the Roku Smart Soundbar media streaming device is a great and only one solution for you.
Read More :- How to Search Movies or TV Shows on Roku
It is a great deal for you in just $80 more than a Roku Ultra. Although you will get the same 4K and great image quality. Also, a highly usable Roku voice remote, in addition to a good quality soundbar to enjoy your favorite media content. Certainly, it's a kind of subwoofer less soundbar. That we only recommend for smaller rooms.
Read More :- Know How to Turn Off Roku Device
But the size of this soundbar is also a blessing for you. Because at just over 32 inches long size, It can work nicely with smaller TVs in tighter spaces. Therefore those people who want some extra bass and sound output. They can add on an extra Roku wireless subwoofer. Although that low-end addition will also set you back another $180 cost in your pocket.
Read More :- Fix Roku Device is in connection to the internet
Conclusion
I hope this article helps you find the best Roku media streamer for you. If you face any problem or need any support for your Roku device then call us our Toll-free number or visit our Roku customer service.