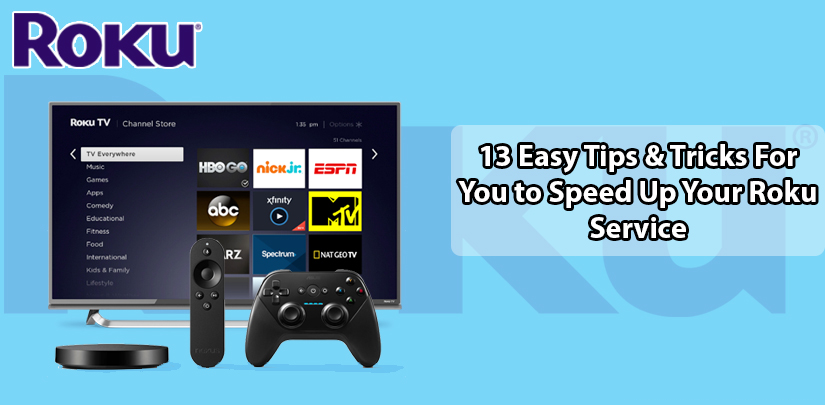 In this ecosystem, Roku plays an important role in being the platform that ties together the customers, the advertisers, and users. Nowadays, many people especially who spend more time watching TV may not want the hassle of paying more for cable or satellite and still having the bad picture quality because of solar interruption and services is also expensive. But Roku offers an alternative because they are not affected by solar flares and service does not have to be expensive. In this article, I will discuss how to speed up your Roku device.
Roku eliminated the need for cable TV and this device are definitely cored components of the cord-cutting lifestyle.
Do you know what is Roku? And how does it work? Simply, Roku is the best streaming device, and it is a digital media player that allows you to stream video, music, and entertainment content.
With Roku, you get nothing to feel bored because it allows you to watch free and paid video content on your TV via the Internet.
Roku has good speed, performance, and features because of this Roku comes in five models.
We will discuss 13 Amazing Roku Speed Up Tips with you, but first, let me describe some features of Roku:
Quad-core Processor
Search across the multiple content providers
It supports Full 1080p HD
Roku is also available on the mobile app for casting personal media to your TV and providing remote capabilities, including voice search.
It is able to use the app in locations where you need to login to Wi-Fi like hotels and dorm rooms.
Roku provides the shortcut buttons on the remote for popular channels, e.g. Netflix, Hulu, HBO Go, etc(button vary by model).
Screen mirroring for compatible Android and Windows devices.
Roku Speed Up Tips and Tricks to Make its Service Faster
Use Phone for Voice Search:
It is very simple steps to speed up your Roku device for you because you know what's even faster than a keyboard? The spoken word. With Roku device, you may have discovered the joys of voice search, which you can operate via the Roku remote.
For voice search features never be confused, The Roku app offers voice search capabilities of its own.
By this you can just tap the search option, then Voice, and Say, Amitabh Bachchan. You will see the all movie list of actor Amitabh Bachchan on your screen.
Use your phone as your Roku Keyboard:
Use your phone instead and make your work easier and speed up your Roku device. Roku apps allow the better option for you, the Roku apps can take place of your Roku remote, but they also provide that makes data entry significantly faster and easier.
So remote now under in your control, you search or sign in, just run the app now tap remote and then tap the keyboard icon which is available near the bottom of the screen.
Stream Media from Your Phone or Tablet:
Now, easy to stream media from your phone with a Roku device. People are bored when he sees the recent wedding video, photos, graduation video and the soccer game on a tiny phone or tablet. The Roku app connects you to easily to cast photos, videos and music from your mobile device to your streamer.
You just open the app and tap Play on Roku and select the kind of media you want to stream and enjoy the Big screen viewing from your smaller screen device.
Switch your Roku Remote into a universal Remote:
You can program a side-click. This is add-on features of Roku device, this clever add-on clips to the side of your Roku remote and adds a row of handy Programmable buttons. And this is the pretty nice option for anyone tired of juggling remotes.
Organize channels:
When you watch TV you add more channels in a library, the bigger a jumbled mess they get and you are confused with them many lists shows on the screen, you have probably wished for some ways to reorganize them.
It's a not difficult task, you select a channel you want to relocate then say HBO now and highlight it with your remote. Now next step, press the options button(it looks like an asterisk), then choose move channel. Arrange the icon where you want, once you have found the perfect spot, press OK to finalize the process.
Reorganize Channels in the Roku App:
Recently Roku app added a great feature for users a channel screen, similar to what you see on your TV and you have to hit up your actual Roku on your TV. After that, just follow the steps outlined in Organize your Channels above.
Choose New Theme:
You select the desired theme because many users have different themes choice some likes red and some likes purple. You simply go into the settings menu and choose Themes, you will see a handful of other options.
Select get more themes, which will bring you to the Roku channel Store's Theme collection. Here you will see the several dozen other options.
Install A Screensaver:
The screensaver is an interesting thing for you when your streamer sits idle for a while and your Roku logo bouncing around. Choose the Screensaver for a handful of other options, This is the same process like selecting the theme.
You can choose the best one to go to the channel store to find lots of other screensavers aquariums, animated fireplaces, etc.
Rename Your Rokus:
You can give the different name to your Roku device if you have more than one Roku device because it is a lot easier to switch between, say, Bedroom Roku and Living Room Roku Than it is Roku 2 and Roku 3. It is only possible with the app.
Follow some step and rename your Roku device:
Sign into my.roku.com
Go into My Account page
Scroll down a bit to see a list of your connected devices.
Rename your device
Install private Channels:
Roku support the private channels, is that code for an adult? YES or NO. you can find a variety of family-friendly options at source like RokuChannels.tv and RokuGuide.com.
Roku also supports the silent movie channels like Charlie Chaplin, Rudolph Valentino. Go to the Roku's My Account page in your browser then click add a channel and then enter the code ROLLEM.
Find a Lost Roku Remote:
Design of Roku remote is good but size can be a problem so that it goes missing that much more easily.
Roku Ultra and Roku 4 is a fast way to find your remote, both models have a button on top, press it and your remote will make a sound. If you have this you surely find your remote.
Watch movies from your iTunes library:
Roku has Movies Anywhere, it's a free tool and puts all your movies under one roof. Through the Roku app to access movies from your Amazon, Google, iTunes and Vudu accounts. Movies Anywhere are different from others because it brings iTunes into that mix and saves you from having to remember which movie is located where.
Listen in Private With Private Listening:
This is the best features of Roku's, which allows you to stream audio through a remote or your phone to your favorite headphones.
The easiest option of Roku's device like Roku 3, Roku Premiere+, Roku 4 and Roku Ultra all come with the remote that has a built-in headphone jack. Now all current-generation models of Roku's.
We hope the above information is helpful for you. If you have any Query to contact our expert team, Call us at Roku Support number .